Alisa Chalakhyan: 'What Language Do They Speak in Silicon Valley?'
The sliding doors open and we walk out to feel the hot air rush into our lungs – we finally made it to our destination. An hour later I'm lying in bed, and it seems like after over 24 hours on the road I shouldn't be able to keep my eyes open, but guess what? I could hardly shut them. Spending almost half of my life in California, it had become my home, but something about it was so different this time…
The next morning, grabbing the usual latte from Starbucks, we rushed to "uncover" the secret success recipes of the global tech giants like PayPal, Pinterest, Facebook, Synopsis, GoPro, and many others. As an AUA BA in Business graduate, I had spent many years analyzing hundreds of business cases about those companies starting from biographies of the founders to their growth strategies and biggest failures. Throughout those years, names such as Amazon and Google had become synonyms of "greatness" for me and I could never imagine standing at the very entrance of each of these "empires." Like a 5-year-old kid visiting Disneyland for the first time, I was both excited and nervous about what was waiting for us. 
"Will it be too different from what we are used to?"
"Will people working here be too different from us?"
"Will it be too complex for us to digest what they tell us?"
"What language do they even speak?" (as if "their" English was utterly different from "ours")
And if any of my fellow travelers ever says that they had never thought of these questions – believe me, they are lying! It is one thing to read and watch documentaries about those giants, but it is an entirely different wonder to visit the headquarters and meet the people that stand behind those systems. It is more inspiring to shake hands with entrepreneurs just like us, learn their stories (both successful and not so much) and realize that those who stand in the center of the "future" can be just as confused as we are and can struggle to fight their way up just like we do.
After over a month since the trip, I am finally able to get my thoughts (and notes) together to summarize the "treasures" that I have grasped and brought home with me. Besides learning and reanalyzing many theories, I finally understood the logic behind the blockchain technologies and artificial intelligence (things that we all talk about but only a few really understand). While this seems like an ordinary task for a computer science student, it was a big achievement for the rest of us – the "simple" human beings. 
Another valuable experience that this trip offered us was the authentic and direct communication with the representatives of the newly established Silicon Valley startups like EyeQue, ParkStash, and others. The startup community in Armenia is yet developing, and it is nothing like the complex ecosystem of the San Francisco Bay area. Here in Armenia, young entrepreneurs like me who are seeking funding believe that after finding an investment, the newly established company will experience an exponential growth into the neverland of success and legacy. On the other hand, in Silicon Valley startups like DoorDash and EAT Club find investments of hundreds of millions yet struggle with so many real-life issues that people living in this hemisphere don't experience.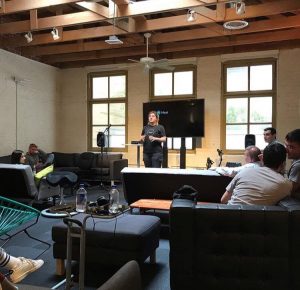 Silicon Valley is made of 4 components (or capitals – as they put it there): intellect, venture, culture, and support. We usually refer to venture capital as a source of financing, yet people in San Jose define it as the "money, expertise, and connections collected by a business or an entrepreneur." And the biggest success of this 10-day trek was the networking opportunity that it provided. These are crazily talented, brilliant people (current CEOs, CIOs, CTOs, etc.) with very down-to-earth personalities that both compete against and support one another at the same time. And it is indeed satisfying to have the opportunity to connect, keep in touch, and ask each of them a simple question that they will readily address in no time. "It doesn't matter what you know, what matters is who you know" – this is the philosophy deeply rooted in the culture of people living in the San Francisco Bay area. And this mindset is one thing that young professionals like me take back with them: one should not be greedy to share their ideas. It is the collective hard work that moves things forward. 
… As we wandered through the same streets that I was so used to, nothing was the same anymore. And it was not Cali that had changed, it was my way of seeing the world. Ten days ago, I could not see the "parallel universe" that I never knew existed before. 
---
Contributed by Alisa Chalakhyan (BAB'19), a recent graduate of Bachelor of Arts in Business (BAB) program of the American University of Armenia (AUA). She is currently continuing her education at Columbia University in New York. Born in Yerevan, Armenia, and raised both in her hometown and Los Angeles, California, Chalakhyan is of two different cultures and qualifies herself as "an individual with a very broad worldview." In 2017, becoming a resident of the AUA Entrepreneurship and Product Innovation Center (EPIC), together with her friends she co-founded She(FF), a startup with a strong social impact aiming to connect women with diverse talents and crafts with people who value the art of unique homemade and handmade products. Chalakhyan was among the ten AUA students that had the opportunity to participate in the trek to Silicon Valley organized by EPIC.