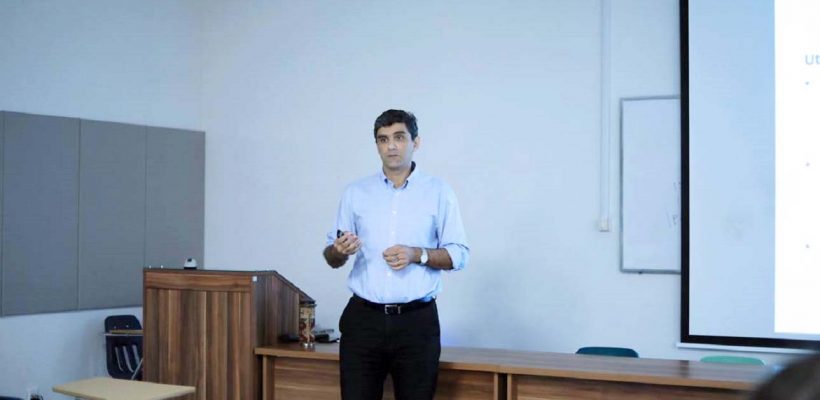 AUA Public Lecture on Economics of AI and Integral Human Development
2
min read
YEREVAN, Armenia – On July 17, 2019, the Manoogian Simone College of Business and Economics (CBE) of the American University of Armenia (AUA) hosted a public lecture by Dr. Aleksandr V. Gevorkyan on Economics of Artificial Intelligence and Integral Human Development. As part of his summer research visit to AUA, Dr. Gevorkyan discussed issues related to immediate economic and philosophical interpretations of ongoing technological changes and the rise of AI in everyday life. 
The lecture, based on Dr. Gevorkyan's joint research effort with Dr. Charles M. Clark, touched upon theories related to the recent polarization of the AI debate that pulls in two mutually exclusive directions: complete takeover of future jobs by omnipotent algorithms or an absolute bliss with robots doing the work while humans enjoy endless spare time. Dr. Gevorkyan also addressed some possible public policy options aimed at tackling imminent fears of the looming technological changes.
The lecture was followed by a Q&A session providing participants with the opportunity to engage in a discussion over relevant applied and conceptual topics, including AI's transformative impact on the global economy and on individuals within a larger society. In response to one of the questions, Dr. Gevorkyan mentioned, "It is not the forthcoming change that matters the most. Instead, what matters the most is how professionally and morally prepared we are, as a society, to address the new challenges." 
Dr. Aleksandr V. Gevorkyan is Henry George Chair in Economics and Associate Professor of Economics at the Economics and Finance Department of the Peter J. Tobin College of Business, St. John's University, New York. He is a senior research fellow at the Vincentian Centre for Church and Society, a research fellow at the Center for Global Business Stewardship, and a board member at the Armenian Economic Association and at the Henry George School of Social Science. Dr. Gevorkyan also serves as Economics Subject Matter Expert for the Permanent Observer Mission of the Holy See to the United Nations. Dr. Gevorkyan is the author of Transition Economies: Transformation, Development, and Society in Eastern Europe and the Former Soviet Union (Routledge, 2018) 
Founded in 1991, the American University of Armenia (AUA) is a private, independent university located in Yerevan, Armenia, affiliated with the University of California and accredited by the WASC Senior College and University Commission in the United States. AUA provides local and international students with Western-style education through top-quality undergraduate, graduate, and certificate programs, promotes research and innovation, encourages civic engagement and community service, and fosters democratic values.