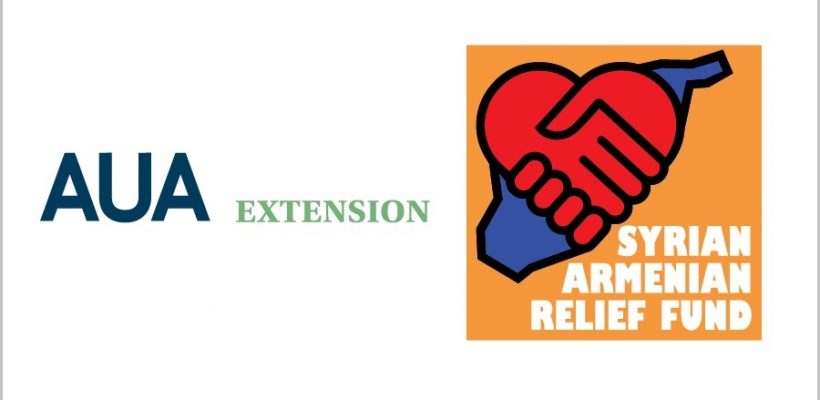 AUA Extension and SARF Partner to Provide New Certificate Program for Syrian-Armenians
2
min read
The American University of Armenia (AUA) Extension is pleased to announce that a new certificate program will be launched in September 2019 in partnership with the Syrian Armenian Relief Fund (SARF). The program is specifically tailored to Syrian-Armenian repatriates interested in starting or expanding a business, or advancing in their professional careers.
Courses offered by the program include business entrepreneurship, tourism and hospitality, branding, accounting, Russian and English. Thanks to funding from SARF, enrollment in courses under this new educational program for Syrian-Armenian repatriates in Armenia will be tuition-free for qualifying Syrian-Armenians. Applications will be accepted starting July 1st.
The program seeks to empower Syrian-Armenians with the skills and knowledge to succeed as entrepreneurs in the homeland. To tap into the fast growing entrepreneurial market, repatriates increasingly need skill sets in adaptive leadership, advanced communication, and foreign languages widely used in Armenia, such as English and Russian. Additionally, a broad range of competencies and practical knowhow in tourism and hospitality management, branding, accounting, and other topics in business will make them more competitive in the local market. The language of instruction will be Armenian.
The tourism and hospitality industry is among the fastest growing sectors in the world and has a strategic significance in Armenia's emerging economy and high demand in the labor market. The industry offers a wide variety of career opportunities, such as tour operator, event planner, recreation planner, food and beverage manager, and many more exciting career options. This program provides interested participants with the unparalleled opportunity to take courses from the rich list of industry-specific courses and languages.
The certificate program will be conducted over a twelve-month period with courses ranging from 34 hours to 87 hours each. In addition to formal instruction, participants will have a guided visit to a company, have one additional week for completing individual business projects, and preparing their final presentations. During the entrepreneurship course, Business Model Canvas methodology will be applied to help participants visualize their business models. Additionally, participants will be coached on how to manage their social media presence, analyze the market, brand their products, and master the numbers in their business models and accounting records. This program not only teaches participants to excel in their businesses but also creates networking opportunities.
As space is limited, interested individuals are encouraged to apply as soon as registration opens on July 1st. The registration fee is 10,000 AMD. Accepted applicants will enroll in the courses under this program tuition-free thanks to funding from SARF.
For questions and more information, contact [email protected].
Founded in 1991, the American University of Armenia (AUA) is a private, independent university located in Yerevan, Armenia, and affiliated with the University of California. AUA provides a global education in Armenia and the region, offering high-quality graduate and undergraduate studies, encouraging civic engagement, and promoting public service and democratic values.
The Syrian Armenian Relief Fund (SARF) was founded in 2012 to provide financial assistance to Syrian Armenians who are the victims of the devastating Syrian Civil War including supporting educational institutions, nutritional needs, essential housing repairs and health care. Between 2016-2018, SARF has also partnered with other non-profit organizations to provide housing rental subsidy to Syrian Armenian refugees who have fled to Armenia. For more information, visit syrianarmenianrelieffund.org.
Media Coverage:
[Asbarez] AUA Extension and SARF Partner to Provide New Certificate Program for Syrian-Armenians