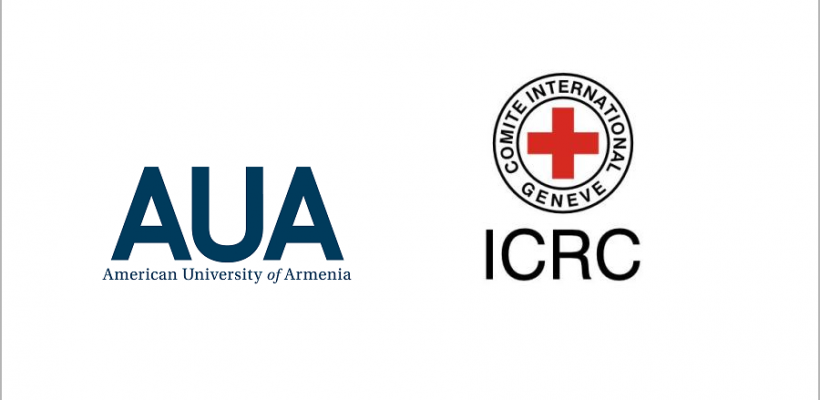 AUA and the Red Cross to Hold Summer School on International Humanitarian Law
2
min read
YEREVAN, Armenia – The International Committee of the Red Cross (ICRC) Delegation in Armenia and the American University of Armenia (AUA) Master of Laws (LL.M.) program are pleased to invite applications for the Regional Summer School on International Humanitarian Law (IHL). The summer school will be held in Yerevan at the American University of Armenia on 17-22 June 2019. This year, the program is dedicated to the 70th Anniversary of the Geneva Conventions.
The Regional Summer School is a unique event offering intensive training in IHL by leading specialists from Armenia and abroad. The event aims to increase the knowledge of IHL among university students and professionals and to raise their awareness of and interest in the ICRC activities and principles. The course will be held in the evening hours and the working language is English.
As in previous years, the summer school will feature prominent specialists of IHL from Armenia and abroad. Participants will attend lectures by Ady Niv, Judicial Cooperation Advisor at the European Union's Judicial Cooperation Unit (Eurojust), The Hague, Netherlands. Niv has served as Legal Officer at the Military Advocate General's Corps of the Israel Defense Forces and as Associate Legal Officer at the United Nations' international criminal tribunals. Participants will also attend lectures by Oksana Senatorova, Associate Professor at Yaroslav Mudryi National Law University, Ukraine, who specializes in International Criminal Law, IHL, and Judicial Practice. A lecture on the contemporary challenges and implementation successes of the Geneva Conventions will be delivered by Kelisiana Thynne, Legal Advisor at the ICRC Advisory Service in Geneva headquarters.
IHL is one of the most developed branches of public international law and was created out of a set of treaty rules that seek to limit the negative effects of armed conflict for humanitarian reasons. It protects persons who are not participating in combat and restricts the means and methods of warfare. Knowledge of IHL is an essential asset for those working in countries affected by armed conflict and for those interested in working for international humanitarian organizations or related fields.
Applicants must have advanced level or postgraduate study in law or international relations, good knowledge of public international law, and proficiency in English. Upon successful completion of the program, participants will receive a certificate of completion. All expenses related to the event will be covered by the organizers with the exception of travel and accommodation costs.
Admission to the program is based on a competitive selection process, and places are limited. To apply for the summer school, please follow the below procedure:
The application deadline is 6 June 2019. Only selected applicants will be contacted by 8 June 2019.
Founded in 1991, the American University of Armenia (AUA) is a private, independent university located in Yerevan, Armenia, and affiliated with the University of California. AUA provides a global education in Armenia and the region, offering high-quality graduate and undergraduate studies, encouraging civic engagement, and promoting public service and democratic values.