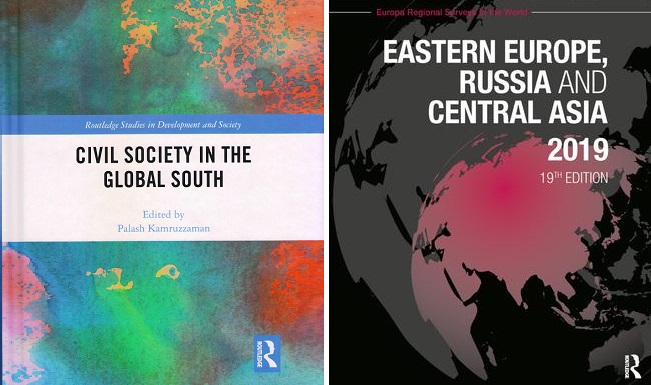 New Publications by PSIA Faculty Members
2
min read
The American University of Armenia (AUA) is pleased to announce that two faculty members of the Political Science and International Affairs (PSIA) program, Dr. Jenny Paturyan and Dr. Vahram Ter-Matevosyan, have recently published their research in books released by Routledge, one of the leading academic publishers in the Humanities and Social Sciences.
PSIA Assistant Professor Dr. Paturyan, together with Valentina Gevorgyan (PSIA '11), co-authored the chapter on "Re-emerging Civic Activism: Restoring the Ecosystem of Armenian Civil Society," in the book titled Civil Society in the Global South. The study looks into the recent development of Armenian civil society, using the conceptual analogy of an ecosystem: a delicate, complex, and interconnected reality where different "species" of civil society coexist and interact. In particular, the chapter focuses on two elements of the civil society ecosystem: NGOs and mini social movements. The abstract of the study can be accessed here.
PSIA Program Chair and Associate Professor Dr. Ter-Matevosyan's study, titled "History of Armenia: Country Survey," was published in the 19th edition of Eastern Europe, Russia and Central Asia 2019.The chapter examines the turning points in Armenian history starting from the 1960s up to 2018. It starts with exploring the impact of the Soviet Armenian dissident groups and underground movements leading to the rise of the Karabakh movement. The study also looks into the last decade of the Soviet Union, its collapse, and the unfolding of the Karabakh conflict. The Presidency of Levon Ter-Petrosyan, Robert Kocharyan and Serzh Sargsyan are also addressed. The study pays particular attention to the adoption of the constitutional amendments in December 2015 and the ensuring political instability. It concludes with a discussion of the failed transformation of power in April 2018, the change of government through public protests and the steps that the new government undertook since May.
The AUA PSIA program equips students with advanced analytical reasoning, critical thinking, and communication skills through the study of political science and international affairs, emphasizing local and global perspectives and practical applications of theory. The program aims to provide world-class research and teaching, through which graduates can best contribute to the development of the nation.