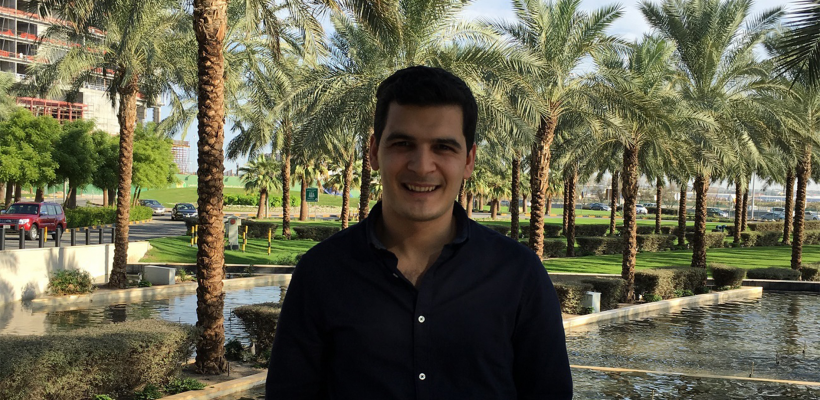 Alumni Success Story: Gevorg Guloyan (IESM, '16) Offered a Teaching Position at AUM
3
min read
The American University of Armenia (AUA) is proud to share that Gevorg Guloyan (IESM, '16) has joined the faculty of the Industrial Engineering Department of The American University of the Middle East (AUM), Kuwait. Despite his intense schedule, Guloyan found time to share with us his experience.
How did you come to study at AUA and what influenced your choice of profession?
I came to study at AUA six years after completing my Bachelor's degree, when I already had more than eight years' working experience, several promotions and a secure job in a TV company.  At the beginning I was enjoying my job, but then it became mundane and I started to look for new challenges. But, in reality, I didn't know what to do. I didn't want to work in the media industry any longer, but I couldn't understand what industries would be more interesting and what would be worth exploring. I started to search for a profession which would suit me best, and came across the AUA Industrial Engineering and Systems Management graduate program. I had no idea what Industrial Engineering was at all. When I read the title, I thought, well… it should be about engineering in some industries, perhaps production, or something else. Then I googled it, and what a surprise.
Industrial Engineers are in every industry; manufacturing, technology, hardware, retail, healthcare – you name it. Industrial Engineers use technical skills and business knowledge for optimizing complex processes, systems or organizations. They improve systematic processes through the use of statistical analysis, interpersonal communication, design, planning, quality control, operations management, computer simulation, and problem solving. In short, engineers make things, but industrial engineers make things better! Moreover, this profession is in high demand.
Wow! It was so interesting that the next day I visited the AUA College of Engineering and met the Dean, Dr. Aram Hajian. We had a very short conversation, but it was enough to understand that I want to be taught by professors like him. And with a big smile on my face I went home to start the application process.
As an AUA alumnus, how would you evaluate AUA's contribution to your current achievements?
I can relate to AUA all of my achievements. Just after graduation, I was hired as a Chief Engineer to work for one of the biggest international hotels in Armenia. This was a major shift for me – a new industry and a managerial position. Without the knowledge and confidence I acquired at AUA, I would not have been able to perform the duties of this new position. Besides teaching students how to become professionals and do well in their careers, AUA also teaches them to do good. This led me and my two friends to found an NGO. We wanted to create a positive impact in the  life of others by implementing innovative projects aimed at sustainable development. We started from scratch, and in about one year after launch, we already had more than a dozen of successful projects in our portfolio, tens of thousands of beneficiaries and large international organizations as our partners. We earned the reputation of being the fastest growing NGO in Armenia. I can hardly imagine that any of this would have happened without the aspiration that AUA gave me.
Tell us a bit about your current status and how you got there.
I enjoyed studying at AUA, and after graduation, I was looking for ways to stay connected with my alma mater. At AUA, students have the opportunity to work study. I worked as a teaching assistant and, because I enjoyed teaching, I decided to pursue it after graduation, which also was a good way for me to stay connected with the university.
Coincidentally, the American University of the Middle East (AUM) was looking for an instructor, and came across my profile in Linkedin. After several interviews, I was appointed to work for AUM in Kuwait. This, again was a major shift for me. Thanks to the knowledge and teaching experience gained at AUA, this became possible. As the saying goes,  "A ship in the harbor is safe; but that is not what ships are built for." This explains the reason why I moved to Kuwait. Now, I am teaching at the Industrial Engineering Department of AUM, exploring Kuwait and the eastern culture, and looking for new opportunities to advance in my carrier.
In general, how would you define success in career?
For me, success in your career is something that is measured by the level of your fulfillment and the feeling that what you're doing is important.