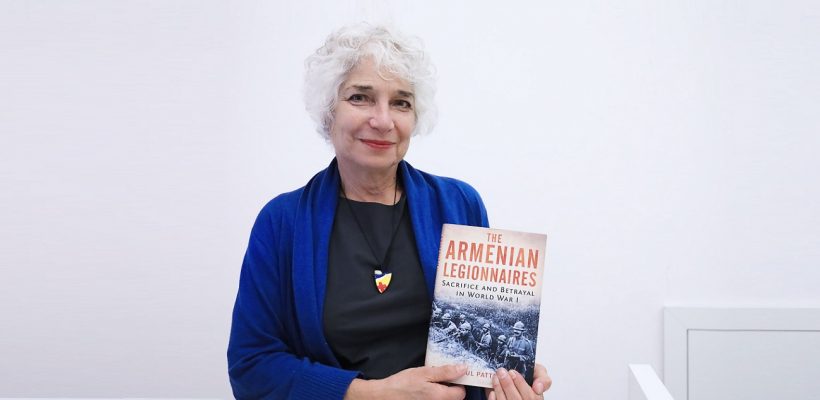 Book Presentation: The Armenian Legionnaires: Sacrifice and Betrayal in World War I
2
min read
YEREVAN, Armenia – On October 10, the American University of Armenia (AUA) Political Science and International Affairs (PSIA) program hosted Dr. Susan Pattie for the presentation of her new book "The Armenian Legionnaires: Sacrifice and Betrayal in World War I," published by IB Tauris this year. Dr. Pattie is an Honorary Senior Research Associate at University College London and former Director of the Armenian Institute in London.
In his opening remarks, Dr. Vahram Ter-Matevosyan, PSIA Program Chair, highlighted the important contribution the book makes to the field and the historical stage it covers. He then introduced the author and invited her to take the floor.
Dr. Pattie started her presentation by first explaining who the Armenian Legionnaires were and what impact they had on Armenian and French history. She explained how a large number of Armenians, not content with watching World War I from the sidelines, joined the French Foreign Legion. They were trained in Cyprus and fought in Palestine and Cilicia alongside General Allenby, playing a crucial role in ultimately defeating German and Ottoman forces in Palestine at the Battle of Arara in September 1918. The Armenian Legionnaires had signed up on the understanding that they would be fighting in Syria and Turkey, and, should the Allies win, they would right there in their homeland lay the foundation of an independent Armenia.
Dr. Pattie discussed the motivations and dreams of the Armenian Legionnaires and their ultimate betrayal as the French and the British shifted priorities, leaving their ancestral homeland to the emerging Republic of Turkey. The presentation was complemented by some exceptional photographs and letters that were published for the first time in her book. Dr. Pattie also showed the map of the journey of the Legionnaires traveling to Port Said from the United States through Marseilles, then training in Cyprus and on to the Battle of Arara and to Cilicia. The author concluded her presentation by asserting that  "the legacy of Armenian Legionaries is an example of courage, selflessness and dedication."
The presentation was followed by questions and answers during which the audience got a chance to learn more on the Armenian Legionnaires and hear more about the sources and pictures the author revealed  through her research.
In closing, Dr. Ter-Matevosyan mentioned that Dr. Pattie's book presentation is the third one hosted by PSIA this year following the earlier book presentations by Taner Akcam and Arman J. Kirakossian.
The AUA PSIA program equips students with advanced analytical reasoning, critical thinking, and communication skills through the study of political science and international affairs, emphasizing local and global perspectives and practical applications of theory. The program aims to provide world-class research and teaching, through which graduates can best contribute to the development of the nation.
Media Coverage:
[Mediamax] Հայկական Լեգեոնը, Կիլիկիայի երազն ու դաշնակիցների դավաճանությունը