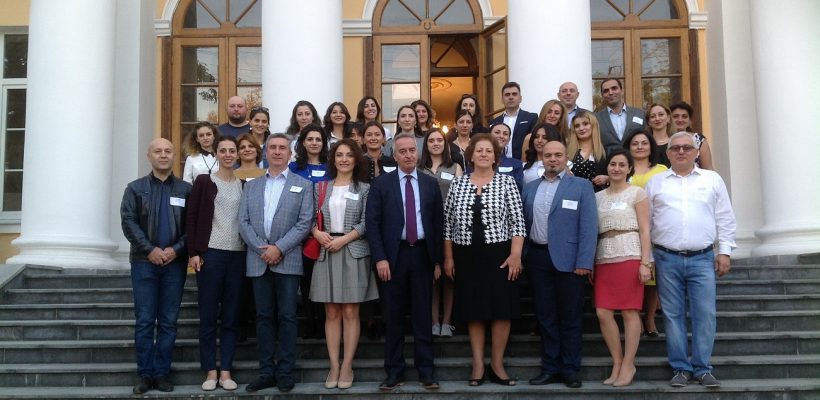 AUA Alumni Reunion in Moscow
MOSCOW, Russia ‒ On September 15, 2018, the American University of Armenia (AUA) hosted an alumni reunion in Moscow. The event was organized by the Alumni and Career Development Office (ACDO) of AUA and held at the Embassy of the Republic of Armenia to the Russian Federation.
Thirty alumni from the pioneer class of '93 to the more recent class of '17 came together to hear about the most recent accomplishments of the University and share their experiences from their years at AUA and their current successes. The evening opened with welcoming remarks by AUA Vice President of Operations Ashot Ghazaryan who first thanked H.E. Ambassador Vardan Toghanyan for supporting AUA by hosting the reunion at the Embassy of the Republic of Armenia in Moscow. Ghazaryan then introduced the AUA team, namely Assistant Vice President Anahit Ordyan (MBA '93), ACDO Manager Narine Petrosyan (M PSIA '03), and ACDO Coordinator Stella Kostanyan.
The presentations that followed touched upon the additions of new degree programs at AUA and the expansion of facilities in recent years. The alumni also heard about various ACDO activities and were kept abreast of the alumni reunions held in various cities and the establishment of the Alumni Scholarship Endowment Fund to support enrolled students with outstanding performance. Speaking about the model contributions by the pioneer class of '93, Ordyan placed special emphasis on the value of staying in touch with classmates and the University, as well as the significance of giving back.
Alexander Kulidjanian (MS EE '96) recalled his student years, the challenges they faced in those difficult times in the country with no electricity and no public transportation, "but we were able to overcome those impediments and graduate from the university successfully."
Words of appreciation for the gathering were also pronounced by alumna Narine Aslanyan (MCLS '07). In her words, "it is very pleasant to think that almost 11 years have passed since I graduated, but it feels like yesterday. If they ask me which years of my life would I want to return to, I would say the two years I spent at AUA, without doubt."
In Liana Hunanyan's (MBA '05) words, "there was life before AUA and there is life after AUA, for which we are enormously grateful."
Several ideas and suggestions were brought forth by the alumni for expanding their networking channels and for getting more involved in the University's life. Armenak Kirakosyan (MBA '96) believes that "it would be great to create an online platform which would allow alumni worldwide to stay connected with one another, to know who is where, and to meet on occasion." Victor Akulyan (MBA '96) added that "it would be great to invite accomplished alumni to deliver keynote addresses at AUA commencement ceremonies."
Marina Gomtsyan (BS CS '17) expressed her appreciation for the opportunity to come together and learn more about the University. "By seeing different generations of alumni in one place, I understood how substantial the impact of AUA is and how important it is to preserve our valuable connections with alumni and to help current students enrich their own experience at the University."
The spirit of excitement was prevailing throughout the evening. Alumni of different programs and different years were happy to get together, to meet the AUA team, to renew old relationships and to establish new ones. The recently formed initiative group expressed readiness to continue periodic gatherings of Moscow-based AUA alumni, to further enhance existing relationships and to grow participation in their alma mater.
Founded in 1991, the American University of Armenia (AUA) is a private, independent university located in Yerevan, Armenia, and affiliated with the University of California. AUA provides a global education in Armenia and the region, offering high-quality graduate and undergraduate studies, encouraging civic engagement, and promoting public service and democratic values.