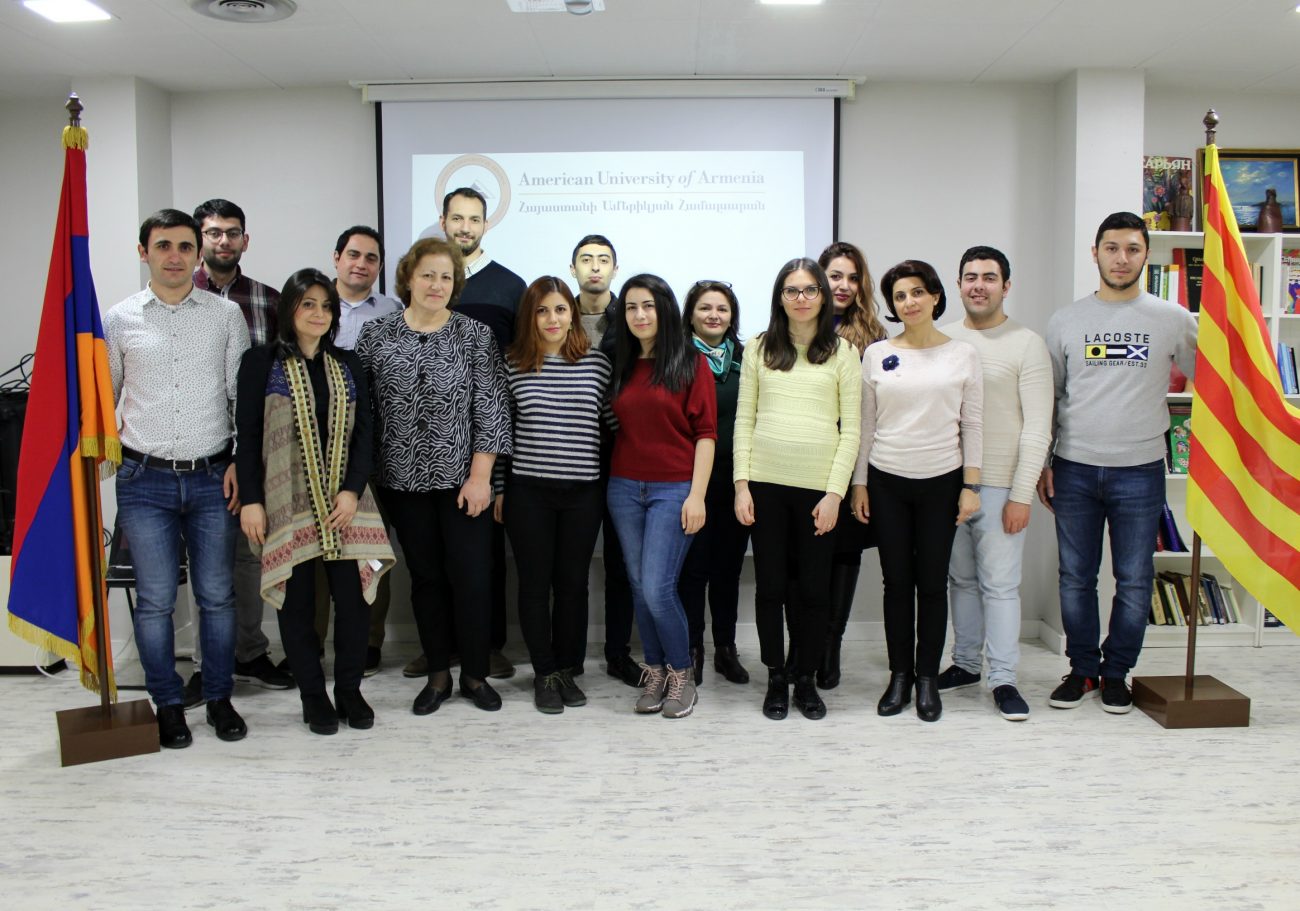 AUA Alumni Reunions in Barcelona and London
The graduates of the American University of Armenia (AUA) gathered for reunions in Barcelona, Spain, on February 22 and in London, the United Kingdom, on March 7.
The Barcelona alumni reunion took place at the Armenian Cultural Center building on the third day of the Erasmus+ BOOST internationalization project conference attended by AUA delegation. AUA alumni from different parts of Spain had the opportunity to meet and share their memories of AUA, and to discuss future networking possibilities.
The alumni were welcomed by AUA Assistant Vice President Anahit Ordyan, MBA '93 who emphasized the importance of alumni being connected with each other and their alma mater. She provided a quick update on the recent developments of AUA, shared the history and experience of other classes' reunions and the established tradition of giving back, and encouraged the graduates to be engaged with the University in different ways.
AUA Master of Laws (LL.M.) Program Chair, Adelaida Baghdasaryan, LL.M. '07, Director of Communications, William Bairamian, and Grants Manager, Gayane Makaryan, were also present at the event and shared with the alumni the latest updates on the University, its achievements and developments.
As stated at the end of the reunion by the alumni, they were not aware of other alumni presence in the city of Barcelona and were very grateful to have this networking opportunity.
The London alumni reunion was held at the Armenian Apostolic Church at St. Yeghiche Armenian Church Parish in Kensington. The AUA graduates were welcomed by Provost, Dr. Randall Rhodes, who was in London to participate in the the Erasmus+ INCLUSION project.
AUA alumni living and working in London had the chance of meeting each other and learning about the recent developments of their alma mater.
"How wonderful that Erasmus+ capacity-building projects allow us to arrange for alumni reunions in Europe," noted Ordyan.
Founded in 1991, the American University of Armenia (AUA) is a private, independent university located in Yerevan, Armenia and affiliated with the University of California. AUA provides a global education in Armenia and the region, offering high-quality, graduate and undergraduate studies, encouraging civic engagement, and promoting public service and democratic values.