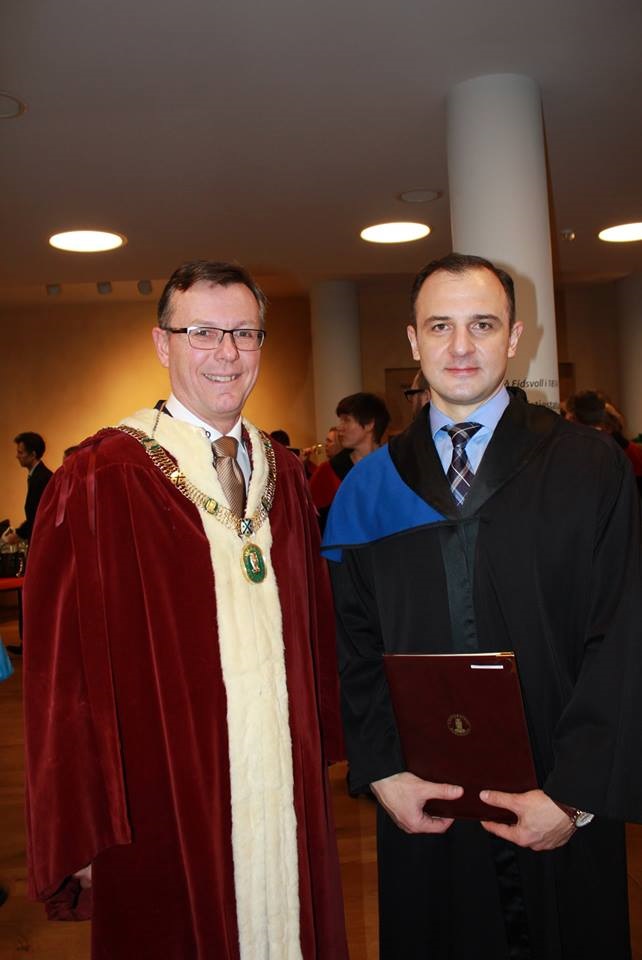 AUA's Dr. Vahram Ter-Matevosyan Receives Doctoral Degree, Delivers Talk on Armenian-Turkish Relations in Norway
BERGEN, Norway – The American University of Armenia (AUA) is happy to share that Assistant Professor Dr. Vahram Ter-Matevosyan of the Political Science and International Affairs (PSIA) program was recently conferred his full doctoral degree (Doctor of Philosophy) from the University of Bergen, Norway. While in Norway, Dr. Ter-Matevosyan was invited to deliver a talk on Armenian-Turkish relations at the Norwegian Institute of International Affairs (NUPI), an institution with which he has maintained a long-standing research cooperation.
Dr. Ter-Matevosyan's dissertation, "Kemalism and the Soviet Union: Ideological Transformations in Turkey and Problems of Interpretations, 1920-1970s," looks at the origins, evolution, and transformational phases of Kemalism between the 1920s and 1970s, examining the Kemalist ideology of Turkey from two perspectives. It addresses the major problems in the existing interpretations of Kemalism and how the incorporation of Soviet perspectives can enrich the historiography and our understanding of Kemalism.
After receiving the degree, Dr. Ter-Matevosyan stated, "I am incredibly happy that this long and incredible journey towards a full doctoral degree has come to a successful end. This is also a feeling of joy and pride for my family, friends, colleagues and students. Their constant and unconditional support during the entire process was instrumental."
Dr. Ter-Matevosyan specializes in Turkish domestic and foreign policy issues as well as in problems related to South Caucasian security problems and conflicts. During his talk at NUPI, he discussed past and current complexities of bilateral relations between Armenia and Turkey, as well as the importance of revisiting established interpretations of certain developments of the early 1990s.
Dr. Ter-Matevosyan then examined previous reconciliation and normalizations efforts (such as Turkish-Armenia Reconciliation Committee (TARC), Workshop on Armenian Turkish Scholarship (WATS), Support to Armenia-Turkey Rapprochement (SATR) and so on. Examining the opposing narratives concerning discourse on the Armenian Genocide, he noted that currently relations between official Yerevan and Ankara are worse than in 2008. He concluded by identifying the need to decouple normalization and reconciliation efforts.
The AUA community sincerely congratulates Dr. Ter-Matevosyan on receiving his doctoral degree and wishes him further success in his career.
Founded in 1991, the American University of Armenia (AUA) is a private, independent university located in Yerevan, Armenia and affiliated with the University of California. AUA provides a global education in Armenia and the region, offering high-quality, graduate and undergraduate studies, encouraging civic engagement, and promoting public service and democratic values.