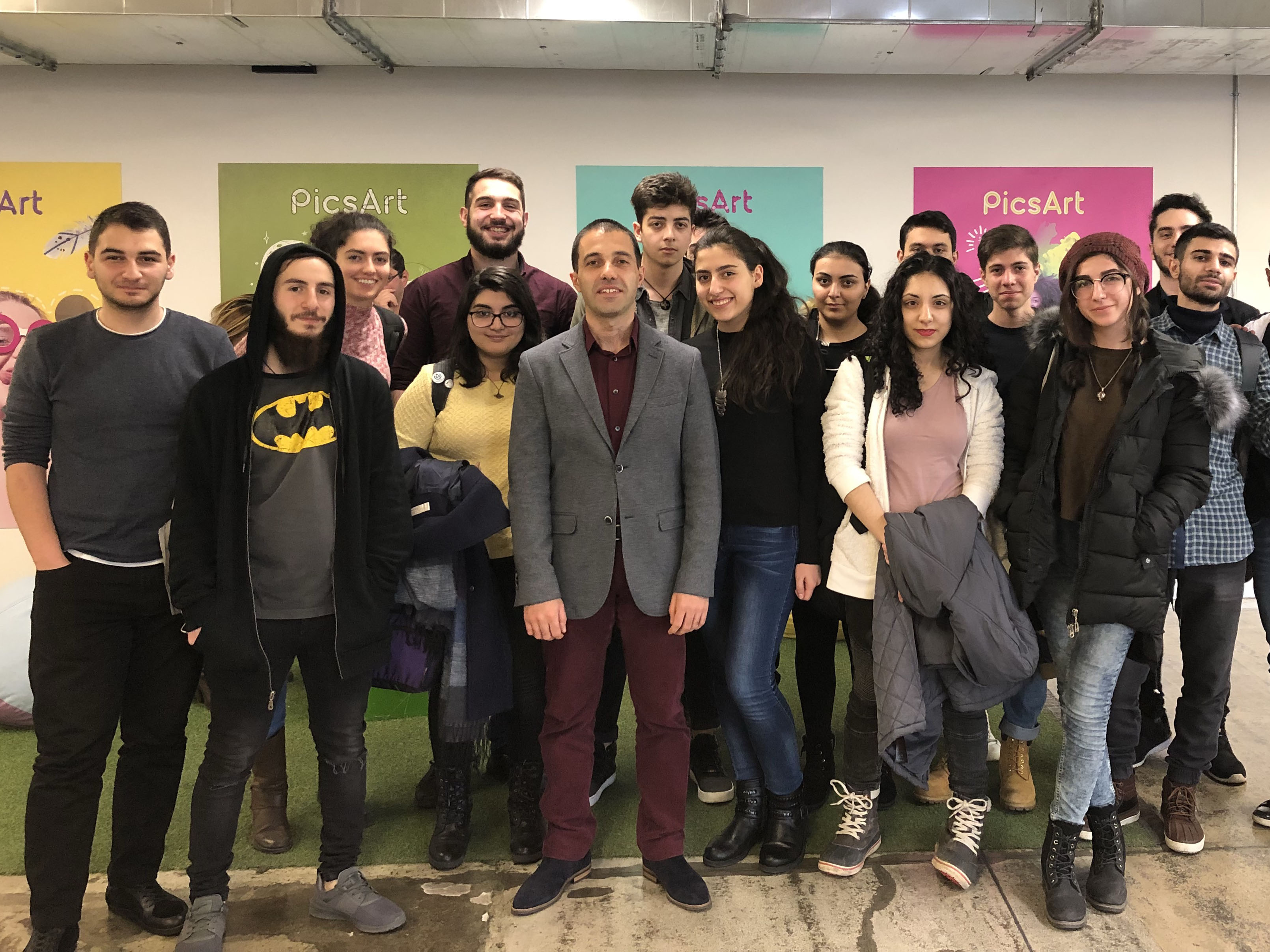 Students of Cybersecurity Essentials Visit PicsArt
2
min read
YEREVAN, Armenia – On January 26, American University of Armenia (AUA) Zaven and Sonia Akian College of Science and Engineering (CSE) Adjunct Lecturer Dr. Artak Barseghyan organized a study tour to the PicsArt office in Yerevan within the framework of his class, Cybersecurity Essentials. The visit aimed to explore and discuss cybersecurity threats, as well as PicsArt IT infrastructure and operations management. The tour was conducted by PicsArt Infrastructure Operations Manager Gerasim Hovhannisyan and the IT team.
PicsArt is a photo editing app that makes it easy to create amazing images and share them with friends. With over 450 million installs and 100 million monthly users, PicsArt spans the globe and is available in over 30 languages.
"Cybersecurity is now a persistent business risk. It is no longer an issue that concerns only information technology and security professionals. Visits to successful companies within the framework of the CSE 150 – Cybersecurity Essentials course are a unique opportunity for students to explore and discuss real life problems and defending mechanisms. Students have the opportunity not only to choose a company that is interesting to visit, but also to select practical research topics that can be explored and presented at various successful organizations in Armenia," said Dr. Barseghyan.
Students were excited to ask questions and hear success stories on cybersecurity threats and the ways in which a company of PicsArt's magnitude defends itself. Other topics discussed were confidentiality, integrity, availability and big data, the Internet of things and more.
Founded in 1991, the American University of Armenia (AUA) is a private, independent university located in Yerevan, Armenia and affiliated with the University of California. AUA provides a global education in Armenia and the region, offering high-quality, graduate and undergraduate studies, encouraging civic engagement, and promoting public service and democratic values.