Construction on USAID/ASHA-Funded Student Union, Faculty Center and Open Amphitheater in Progress
2
min read
YEREVAN, Armenia – The American University of Armenia (AUA) is excited to share that construction of a student union, faculty center and open amphitheater adjacent to the Paramaz Avedisian Building (PAB) is in full progress and aims to be completed by June 2018. At completion, the buildings will be fully equipped and furnished. Its implementation is possible thanks to a generous $650,000 award from the American Schools and Hospitals Abroad (ASHA) program of the US Agency for International Development (USAID).
The addition of a student union will give students a space of their own to collaborate, organize events, or simply relax and socialize in between classes, improving their overall educational experience and encouraging the cultivation of valuable networking skills. Similarly, the faculty center will provide AUA's instructors with a space to share experiences, plan, strategize and collaborate with colleagues, thus facilitating interdisciplinary interactions. The open amphitheater will serve as a place for both students and faculty to perform and engage with the public and local community at large.
AUA's Vice President of Operations, Ashot Ghazaryan, stated, "We are pleased to have started the construction, which will allow us to address the needs of AUA's gro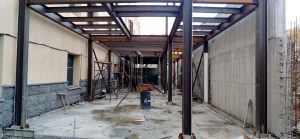 wing student body and faculty by providing three essential facilities that typically exist in American higher education institutions."
The three new facilities were designed by the Armenia-based NST Architecture Studio with the aim of ensuring design continuity with AUA's PAB. "Horizon" LLC, the construction company, was selected through an open bidding process.
The overall expansion will add approximately 450 square meters to the University's existing facilities. With a seating capacity of 150, the student union will have desks, chairs, and a coffee corner serving sandwiches and drinks. Two 16 square meter rooms will provide privacy for group discussions, student club activities, meetings and rehearsals. Wireless access and interactive media will enhance the learning and social environment. Adjacent to the student union, a large chess board will be built on the University grounds.
AUA has been receiving sup
port from ASHA for many years, with past projects including the renovation and expansion of the University library and cafeteria, the creation of integrated technology classrooms, the replacement of University elevators, construction of the Entrepreneurship and Product Innovation Center and collaborative study space, renovation of student labs and much more.
ASHA provides assistance to schools, libraries, and medical centers outside the United States that serve as study and demonstration centers for American ideas and practices. ASHA's grants help these institutions train future leaders in a wide variety of disciplines, support local and regional infrastructure to foster development, and cultivate positive relationships and mutual understanding among citizens of the United States and other nations.
Founded in 1991, the American University of Armenia (AUA) is a private, independent university located in Yerevan, Armenia and affiliated with the University of California. AUA provides a global education in Armenia and the region, offering high-quality, graduate and undergraduate studies, encouraging civic engagement, and promoting public service and democratic values.