Sharing the Vision to Improve Library Services
2
min read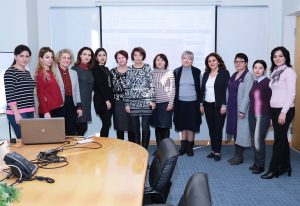 YEREVAN, Armenia – On December 11, a group of librarians from universities around Armenia visited the American University of Armenia (AUA)'s AGBU Papazian Library within the framework of "Access to Libraries and Society for Learners with Special Needs," a project within the Erasmus+ "Library Network Support Services (LNSS): modernising libraries in Armenia, Moldova and Belarus through library staff development and reforming library services." The guests were from the Public Administration Academy of RA (PAARA) Library, National Library, Yerevan Brusov State University of Languages and Social Sciences Library, and Republican Scientific Medical Library. A key focus of the meeting was discussing ways in which libraries can take further steps to enhance services for people with disabilities.
Library Director Satenik Avagyan and Head of Reference Hasmik Galstyan gave a tour of the library facilities and presented the services available to patrons and students with special needs, focusing on accessibility mode for blind and visually impaired people. Yelena Sardaryan, counselor from AUA's Center for Student Success, introduced the group to the prevention needs of the counseling service, which is a new experience for academic libraries in Armenia.                                                                                          
Following the visit, Vice-Rector for International Relations at PAARA, Tereza Khechoyan, remarked, "Attendees from PAARA were really very much impressed and are excited to meet again when new devices are installed at AUA. I would like to thank Hasmik Galstyan and Yelena Sardaryan for interesting and informative presentations. Each time we meet at your library we feel inspired and enthusiastic in our professional activities."
Founded in 1991, the American University of Armenia (AUA) is a private, independent university located in Yerevan, Armenia and affiliated with the University of California. AUA provides a global education in Armenia and the region, offering high-quality, graduate and undergraduate studies, encouraging civic engagement, and promoting public service and democratic values.