Alumni Story: An Interview with Mane Shahinyan
3
min read
We caught up with alumna Mane Shahinyan, IESM '14, to discuss life after graduation, continuing her education, and the meaning of success.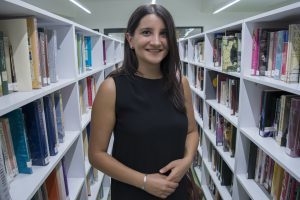 What initially influenced your choice of profession? How did you choose AUA? Tell us a little bit about your student years at AUA.
With a Bachelor's degree in mathematical modeling and methods from the Armenian State University of Economics (ASUE), I was inspired to further my education at AUA so that I could become a better specialist in the Armenian market. While choosing my master's program back in 2012, I shifted my profession from economics to industrial engineering since I believed that optimization skills in the field of engineering would benefit my country more. As an economist and engineer I think industries are the key to a successful and prosperous economy.
What was the role of AUA in molding your future choice of profession?
The choice of AUA as my university was an easy decision since it is a unique multicultural environment in Armenia and provides high class education. Studying there helped me develop my language and communication skills. Additionally, I gained not only profound professional knowledge but also built a strong network, and had a great opportunity to develop my teaching skills while serving as a teaching assistant for several courses, and as a math consultant in the Student Success Center. Interaction with students shaped me into a more confident and communicative person. Moreover, at AUA I met professors who had a significant impact on me, such as Sargis Zeytunyan and Aram Hajian, who constantly supported me with my decision to continue my studies.
As an alumna, how would you evaluate AUA's contribution to your current achievements?
I would say that the job I had for the last two years was a credit to AUA. I was employed as a dental computer-aided designer, which was a consequence of my interest in taking computer-aided design and manufacturing courses during my master's studies. So, I can state that AUA played a significant role in my career development in the last few years. I also continued working as a teaching associate after graduation. I was very pleased to stay connected with my alma mater even after my studies were done.
Tell us a little about your current status. What do you do?
In 2017, three years after I graduated, I decided to continue my studies abroad. I was admitted to the MSc program in Management Engineering at the Polytechnic University of Milan (POLIMI). I was honored to receive the MAECI scholarship (Italian Government Scholarship for International Students). The program is a combination of industrial and innovation management; it provides an opportunity to develop skills in different areas by introducing key concepts for any successful industrial organization. My goal is to develop my skills in the fields of strategic and innovation management, which, in combination with my technical skills, will make me a more qualified specialist and allow me to make more impactful contributions to the development of industries in Armenia.
In general, how would you define success in a career?
As a hardworking and goal-oriented person, I believe that true success is developing skills and broadening knowledge as well as always trying to become better than you are in career and life. As William Faulkner said, "Always dream and shoot higher than you know you can do. Do not bother just to be better than your contemporaries or predecessors. Try to be better than yourself." This is the guide I follow in life. As I see it, success in career means being a true professional at work, contributing to your company and country significantly, and being passionate about what you do.