TCPA Hosts Fulbright Scholar to Study Integration of Syrian Refugees in Armenia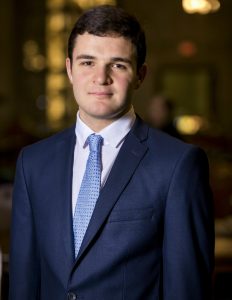 YEREVAN, Armenia – The American University of Armenia (AUA)'s Turpanjian Center for Policy Analysis is pleased to share that it is hosting Fulbright Scholar Hagop Toghramadjian, who is studying the integration of Syrian refugees in Armenia, until June 2018. Toghramadjian will be giving special attention to the ways in which Syrian-Armenians have contributed to Armenia's development.
More specifically, Toghramadjian will be cataloguing the existing journalistic and scholarly research on Syrian-Armenians, compiling a clear summary of Syrian-Armenians' economic and cultural contributions, highlighting "best practices" for assisting Syrian-Armenians, and identifying continuing difficulties. Based on his research, he will also suggest ways in which the government and NGOs can best work with Syrian-Armenians to create more meaningful partnerships.
Toghramadjian graduated from Boston College in 2017, where he studied political science and Arabic. He has previously conducted research in the Armenian communities of Beirut and Jerusalem. In 2016, he served as an intern in the Consular Section of the U.S. Embassy in Yerevan.
Founded in 1991, the American University of Armenia (AUA) is a private, independent university located in Yerevan, Armenia and affiliated with the University of California. AUA provides a global education in Armenia and the region, offering high-quality, graduate and undergraduate studies, encouraging civic engagement, and promoting public service and democratic values.