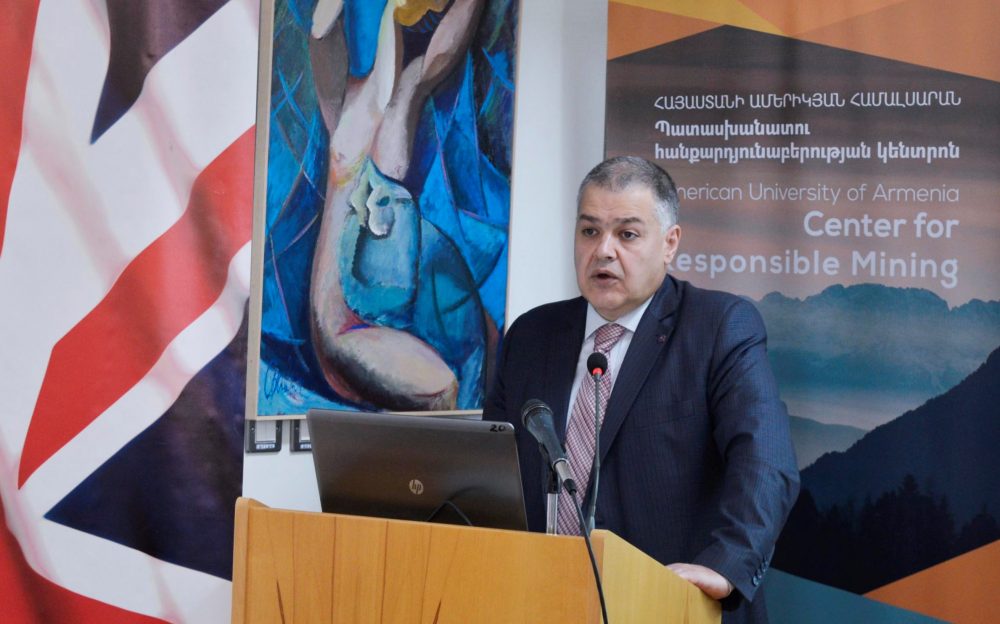 Support to Extractive Industries Transparency Initiative (EITI) and Mining Transparency Project Launched at AUA
2
min read
On July 18, the project "Support to Enhance Armenia's Capacity to Implement EITI and to Increase Transparency and Accountability in Mining Licenses and Contracts" funded by the British Embassy Yerevan was launched during a meeting of the multiple stakeholder group of the Armenian Extractive Industries Transparency Initiative (EITI).
Davit Harutyunyan, Armenia's Minister of Justice and Chairman of the Armenian EITI Multi-stakeholder group and H.E. Judith Margaret Farnworth, British Ambassador to Armenia made opening remarks. 
Within the framework of the project in 2017-2018, a number of studies, as outlined in the Armenian EITI Work Plan, will be developed. The implementing partner is the American University of Armenia (AUA) Center for Responsible Mining. The Center will be recruiting UK experts to help with development of the studies and reports. 
The studies needed for the preparation of Armenia's 2018 EITI Report include a Scoping Study that will guide the Multi-stakeholder group of the Armenian EITI to specify the scope, types and volume of information to be published under the EITI and the most suitable approach for publishing it. 
Another component of the project is the preparation of the report on Legal and institutional framework for the mining sector. The report will examine the legislative and institutional framework of the sector, reveal the existing gaps and propose action plan for addressing them. In particular, regulatory framework, specifications of awarding mining permits, licenses and contracts, as well as issues relating to the disclosure of beneficial owners of mining companies will be studied. 
Finally, the project will also organize training sessions for journalists, related CSOs and Government staff on EITI and on transparency and accountability in awarding of mining permits, licenses and contracts. 
Background Info
The EITI is a global standard to promote the open and accountable management of extractive resources. The EITI Standard is implemented by 52 countries including Armenia, which became the 52nd candidate country on March 9, 2017 with the EITI Board's approval of Armenia's EITI candidature application. 
According to the mandate of the EITI International Secretariat, Armenia's first EITI Report should be published in 2018, covering information on permits issued by the state, extraction volumes, collected taxes, royalties and other payments, revenue allocations, and social contributions in the mining sector from 2016 to 2017. By January 1, 2018, Armenia should have an approved roadmap for beneficial ownership disclosure. 
For more information,  visit http://www.gov.am/am/eiti/.