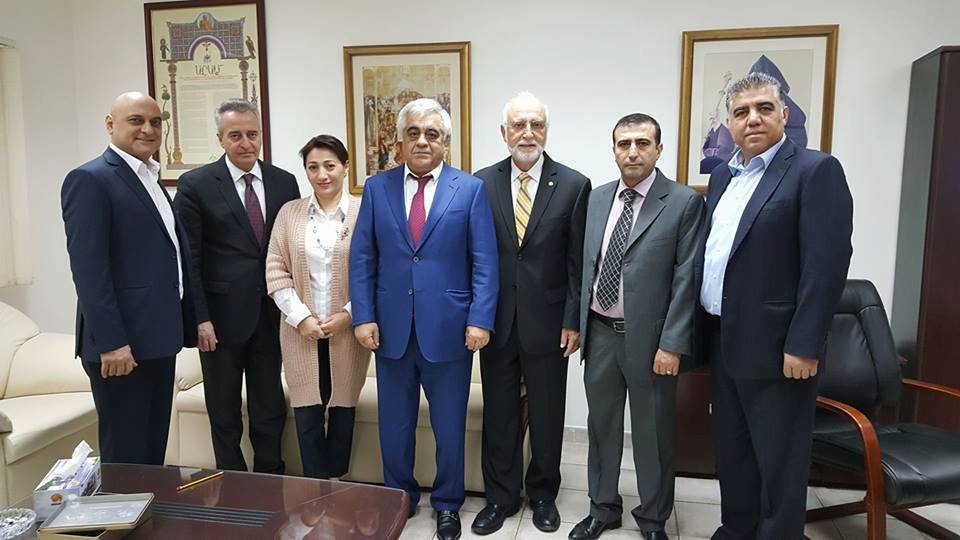 AUA Leadership Establishes Foundation for Cooperation with Diasporan Communities in Gulf Countries
3
min read
From November 25-29, the American University of Armenia (AUA) Leadership visited Abu Dhabi and Kuwait to establish fruitful and productive ties between the University and local Armenian Diaspora communities. Within the framework of their visit, Dr. Armen Der Kiureghian, AUA President, and Mr. Ashot Ghazaryan, Vice President, met and spoke with prospective students about the University, its academic programs, and vision.
The team's visit was organized by the Armenian Embassies in UAE and Kuwait with the gracious support of both H.E. Mr. Gegham Gharibjanyan and H.E. Mr. Manvel Badeyan, Ambassadors of the Republic of Armenia to the United Arab Emirates and the State of Kuwait respectively. H.E. Mr. Gegham Gharibjanyan and wife Mrs. Aida Gharibjanyan, as well as Consul Mher Mkrtumyan provided internal support throughout the trip and ensured a meaningful engagement between University Leadership and local Diaspora. Similarly, H.E. Mr. Manvel Badeyan and wife Lilit Galstyan, an AUA alumna (PSIA '96) along with Consul Levon Petrosyan helped organize and facilitate meetings with the Armenian communities of Kuwait. On November 25, an event was held in Abu Dhabi, giving the Diaspora community of UAE, as well as Syrian-Armenian refugees a chance to get acquainted with the unique opportunity of receiving a high-quality Western standard education in Armenia. The event took place in the Armenian Saint Krikor Lousavorich Church, where President Der Kiureghian presented the AUA programs to the community leaders and local Armenian youth.
In the following days, AUA Leadership traveled to Kuwait where two events were held. The first event took place in the Armenian National College of Kuwait. The school enrolls children from kindergarten through the 12th grade and currently has nearly 300 students, and a staff of 25 full-time teachers, including 17 Armenians. During his meeting with the graduating class, President Der Kiureghian spoke about the various academic programs and opportunities available to Diaspora students, as well as its vision for enriching the country by bringing more international students to study in Armenia.
As a pillar of the local Armenian community, President Der Kiureghian and VP Ghazaryan visited the Saint Vartanants Church in Kuwait and were graciously welcomed by Fr. Ardag Kehiayan. There, they met with clergy members, community leaders, and local Armenian youth to present the University's goals, achievements, environment, and opportunities. Many prospective students were motivated to pursue a higher education at AUA since it is an accredited American university affiliated with the University of California.
Dr. Der Kiureghian and Mr. Ghazaryan also met with Dr. Nizar Hamazeh, President of the American University of Kuwait (AUK) and Amal A. Al-Binali, Vice President of Admissions & Public Affairs to discuss the future cooperation between both University's which are alike in standard and capacities. AUK has approximately 2200 students, enrolling in 12 undergraduate programs including a significant portion of Armenian students. As the University does not yet offer its own graduate programs, the AUA President and VP met with AUK Leadership to set the foundation for cooperation, specifically encouraging the flow of AUK Armenian and non-Armenian undergraduate students to continue their higher education at AUA.
Additionally, AUA would like to announce that international students who hold Special Residency status in Armenia can qualify for local tuition. If an applicant is classified as a Special Passport Holder of the Special Residency Status (commonly known as the 10-year visa) prior to the start of his/her studies, then s/he is eligible for local tuition.
The AUA Leadership is very grateful to have been able to reach out to the many Diaspora communities and looks forward to many more such exchanges in the coming year.
Founded in 1991, the American University of Armenia (AUA) is a private, independent university located in Yerevan, Armenia and affiliated with the University of California. AUA provides a global education in Armenia and the region, offering high-quality, graduate and undergraduate studies, encouraging civic engagement, and promoting public service and democratic values.
VP Ashot Ghazaryan, H.E. Mr. Manvel Badeyan and wife Lilit Galstyan, and AUA President Armen Der Kiureghian
VP Ashot Ghazaryan, H.E. Mr. Gegham Gharibjanyan, and AUA President Armen Der Kiureghian