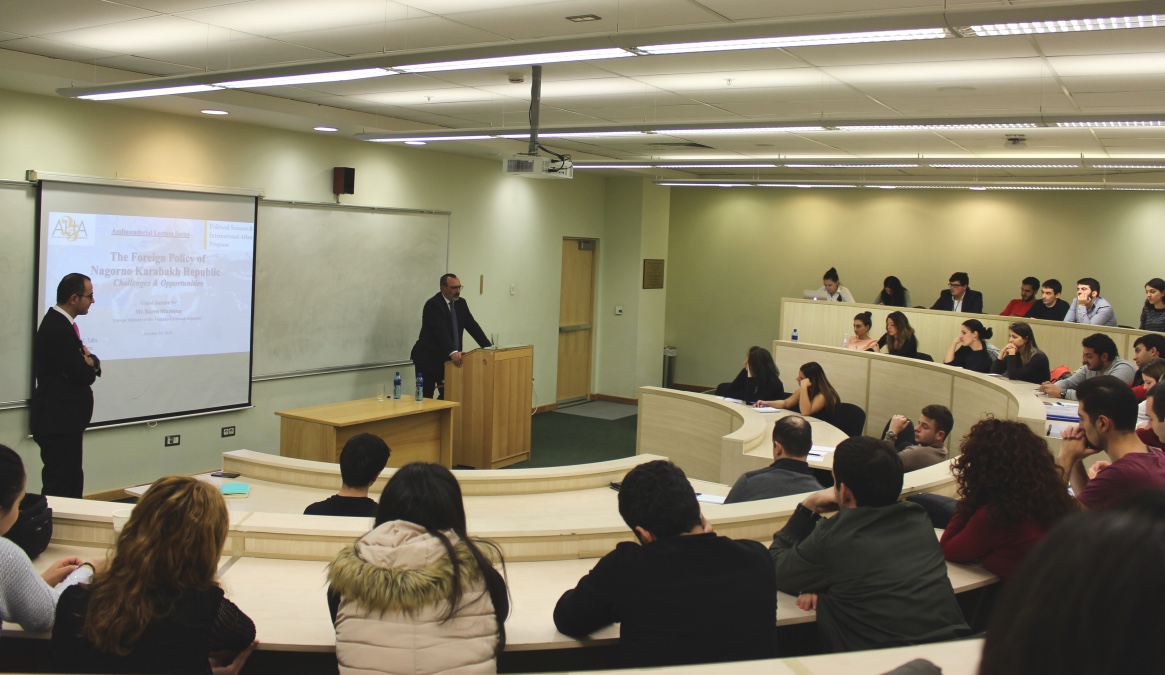 PSIA Ambassadorial Lecture Series: Foreign Minister of Nagorno Karabakh Republic Speaks About Foreign Policy Challenges & Opportunities
2
min read
YEREVAN, Armenia – On October 22, the American University of Armenia (AUA) Political Science and International Affairs (PSIA) program hosted the Foreign Minister of Nagorno Karabakh Republic, Mr. Karen Mirzoyan, within the framework of the program's Ambassadorial Lecture Series. In welcoming remarks delivered by PSIA Adjunct Lecturer, Dr. Hovhannes Nikoghosyan, he underscored the importance of this lecture for the graduate students' better understanding of the Nagorno Karabakh issue. Following this, Minister Mirzoyan delivered his keynote speech on "The Foreign Policy of the Nagorno Karabakh Republic: Challenges and Opportunities".
"The traditional diplomacy of states is undergoing transformations and we are using all the tools at our disposal in the pursuit of greater stability and peace in the South Caucasus", Foreign Minister began, expanding on the priorities of his country's foreign policy agenda, which he described as a two-fold enterprise aimed at achieving international recognition and reaching negotiated resolution to the conflict within the established process led by the OSCE Minsk Group co-chairmen.
Speaking in particular about the Nagorno Karabakh peace process, Mr. Mirzoyan noted that it should be aimed at establishing necessary and effective mechanisms and conditions for the peaceful coexistence of Azerbaijan and the NKR. The guest lecture was followed by a lively Q&A session, during which students expressed interest not only about various aspects of the peace process following the Four Day War in early April 2016, the interests of foreign powers and current stage of mediation efforts but also about the utility of international judicial mechanisms in conflict resolution, domestic politics, democratic development, as well as the expected Constitutional referendum and its potential impact on rule of law and democratic institutions in the country. In conclusion, Foreign Minister Mirzoyan thanked the students and faculty members for their informed and challenging questions and wished them sound achievements in their academic journey.
More Ambassadorial Lectures will follow within the framework of PSIA 320: International Relations during the Spring 2017 semester.