AUA Hosts First Open House for Students and Parents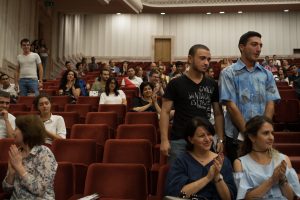 YEREVAN, Armenia – On September 14, 2016 the American University of Armenia (AUA) opened it's doors to host the first-ever open house for students and parents in its history. This event served as a platform for an open and frank discussion between students, faculty members, staff, and parents, who, of course, make up a vital part of the AUA community.
The evening began with opening remarks by AUA President Dr. Armen Der Kiureghian. This year's open house also featured an interesting addition to the program with a myths vs. reality presentation led by AUA Vice President of Operations Ashot Ghazaryan.
Time was allowed for questions and answers between each presentation including remarks delivered by Professor of Political Science and International Affairs Arpie Balian on the parents' role in ensuring student success. Following this, Undergraduate Student Council Arpi Janyan gave a presentation on AUA student life beyond the classroom.
The final segment of the evening was dedicated to acknowledging the accomplishments of AUA's students.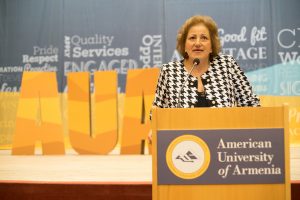 Several students present at the event were recognized for their various awards and medals including Levon Stepanyan and Aram Serobyan for winning the 1st Category Presidential IT Award for Best Bachelor and 2nd Category Presidential IT Award for Best Bachelor respectively in 2015. This year, AUA students Erik Arakelian and Karen Galstyan were awarded the same honor. Furthermore, the University recognized Gasia Atashian for winning the 2nd Category Presidential IT Award for Best Diaspora Student. This year, during the Mathematics Competition for Students hosted in Bulgaria, AUA students Artyom Kosyan, and Levon Stepanyan brought home silver and bronze medals respectively. Ani Baghumyan was pointed out as a proud first prize winner of this year's Arditi Writing Competition.
The evening concluded with a well-deserved recognition to all AUA students who served in the Armenian army and continued their education.
Founded in 1991, the American University of Armenia (AUA) is a private, independent university located in Yerevan, Armenia and affiliated with the University of California. AUA provides US-style education in Armenia and the region, offering high-quality, graduate and undergraduate studies, encouraging civic engagement, and promoting public service and democratic values.