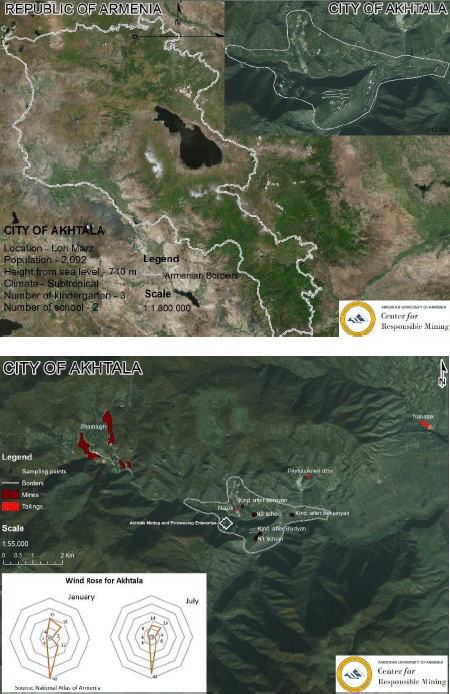 AUA Center for Responsible Mining Publishes Results of Soil and Drinking-Water Testing
YEREVAN, Armenia – On June 29, 2016 the American University of Armenia (AUA) Center for Responsible Mining published reports providing results of independent soil and drinking water assessments in the Lori region. Last November, soil and water samples were collected from three kindergartens and two primary schools in Akhtala, from five kindergartens and two primary schools in Alaverdi, and from one school in Armanis. The soil samples collected were tested for concentrations of arsenic, copper, cadmium, mercury and lead. The water samples were tested for arsenic, arsenic (III), cadmium, copper, lead, mercury, zinc, manganese, aluminum, bor, chromium (VI), iron, and nickel. The results were compared against Armenian and international soil standards. After compiling an official report, researchers then presented their findings and discussed possible solutions with community leadership and school directors from the region.
Key Findings
Heavy metal standards were met in the tested drinking water from all surveyed communities.
Arsenic exceeded the Armenian Soil Standard (SS) and almost all international comparatives in all surveyed communities. It is our recommendation that soil on the premises of schools should be kept to higher soil standards. In addition, there is need for a national discussion to update the country's soil standard for arsenic.
Copper concentrations in all soil samples exceeded Armenian SS. In all communities surveyed, most soil samples exceeded international standards. In Alaverdi specifically, all collected samples exceeded international standards.
Lead is a concern in all communities. Based on international research on lead contamination in soil and background levels, the amounts detected in Akhtala, Alaverdi and Armanis raise immediate alarm for children's health due to lead toxicity. Lead toxicity can be detrimental to childhood development.
The AUA Center for Responsible Mining recommends that playgrounds should be covered by surface materials that reduce children's exposure to soil and dust containing heavy metals of concern.
The full reports are available here.
In the coming month, the AUA Center for Responsible Mining will begin publishing the results of the soil tests from the schools and kindergartens in Kapan, Qajaran, Agarak cities, and Syunik, Artsvanik, Achanan, and Kavart rural communities.
The American University of Armenia Center for Responsible Mining (AUA CRM) promotes the creation as well as transfer and adoption in Armenia of best practices in socially, environmentally, and economically responsible mining. AUA CRM works with companies, civil society, and the public sector to achieve this goal.