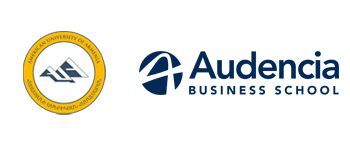 American University of Armenia Signs an MoU with Audencia Business School in France
Reading Time:
< 1
minute
On February 1st, 2016, the American University of Armenia (AUA), Yerevan, Armenia, and Audencia Business School, Nantes, France signed a memorandum of understanding (MoU). Dr. Armen Der Kiureghyan, President, AUA, and Christophe German, Dean and Director General, Audencia Business School, signed the memorandum. The purpose of the MoU is to foster an environment that brings together the strengths and expertise of the American University of Armenia and the Audencia Business School to actively improve the education provided by both institutions. Within the framework of the cooperation, the two institutions encourage the exchange of faculty, administrative personnel, students, cooperative research, educational materials, and publications. The MoU creates the opportunity for both institutions to highlight their training knowledge and experience, to develop joint innovations in research and learn from each other on educational methodologies.
The collaboration with Audencia Business School started in Summer 2015, when the College of Business and Economics (CBE) hosted a visiting faculty from Audenci Business School to teach in the MBA program. The initial collaboration was facilitated in Fall 2015 through preparation for ERASMUS+ International Credit Mobility program and search for European partners. Negotiations started and the idea of MoU was born.
A formal basis for cooperation in education, research, culture, and training will extend and strengthen the conduct of cooperative activities in areas of common interests and encourage the application of the result of such cooperation to their institutions and to the economic, social, and cultural development of their communities and countries.
Founded in 1991, the American University of Armenia (AUA) is a private, independent university located in Yerevan, Armenia and affiliated with the University of California. AUA provides US-style education in Armenia and the region, offering high-quality, graduate and undergraduate studies, encouraging civic engagement, and promoting public service and democratic values.