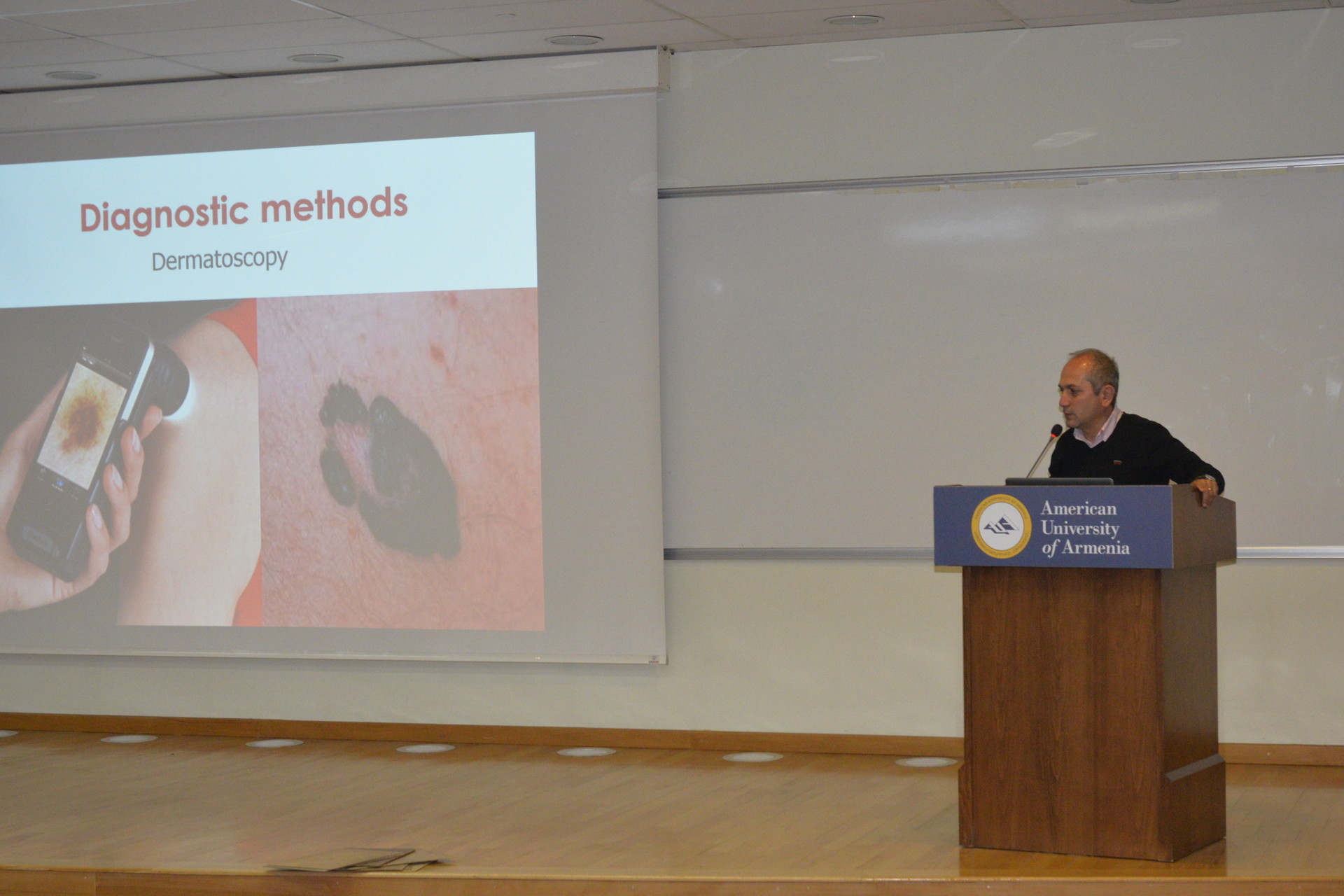 AUA Participates in "World Melanoma Day" for Awareness
2
min read
YEREVAN, Armenia – On May 11th, the American University of Armenia (AUA) Graduate Student Council (GSC) in collaboration with Global Shapers Yerevan, organized a public platform for an open discussion at the Alex and Marie Manoogian Hall to commemorate World Melanoma Day. The event was introduced by Medical Oncologist, Liana Safaryan, from the Clinic of Chemotherapy, Muratsan Hospital Complex Yerevan State Medical University.. The session was aimed to inform the public about the dangers of the melanoma, and raise awareness.
Dr. Safaryan presented vital information on skin cancer,  methods of prevention as well as skin protection. In addition, she discussed treatment available for skin cancer in Armenia..
Following her presentation, a Q&A session was held by Dermatologist Assistant Professor, and Chair of Dermato-Venerology at the Muratsan Hospital Complex of Yerevan State Medical University Vahan Bezirganyan. During the session, he demonstrated the use of laboratory devices to explain the process of the initial diagnosis for Melanoma.
Melanoma is a dangerous type of skin cancer with 160,000 new cases annually around the world. Melanoma among other skin cancers produces the highest mortality rate. (48,000 annual deaths). It develops in the cells (melanocytes) that produce melanin — the pigment that gives your skin its color. The rapid growth of the skin cancer is driven by the increased exposure to ultraviolet (UV) radiation from sunlight on the skin, which is genetically not adapted to such intensive influence. About 86% of skin cancer cases can be attributed to exposure to ultraviolet (UV) radiation from sunlight. The most often occurring localization area of melanoma among women are shins, and among men the area of the back. In Armenia the melanoma cases vary within 40-50 new cases per year.
The Armenian Association of Hematology and Oncology was established in September 2012. The main goal of the association is to develop oncology, hematology and related medical and scientific fields with an objective to reach out to a wider audience on regarding these issues. In addition to the informative session at AUA, during the entire month of May, a number of events such as free consulting/diagnosis at the National Hematology Center at the Muratsan hospital were held.,
The Graduate Student Council of the American University of Armenia (AUA), as part of the greater academic community, is the official representative voice and body of the Graduate students of the American University of Armenia.
Yerevan Hub of Global Shapers Community was established in July 2012, and currently unites 18 active and enthusiastic shapers around great and change-making projects towards a better future. 
Media coverage: 
Founded in 1991, the American University of Armenia (AUA) is a private, independent university located in Yerevan, Armenia and affiliated with the University of California. AUA provides US-style education in Armenia and the region, offering high-quality, graduate and undergraduate studies, encouraging civic engagement, and promoting public service and democratic values.