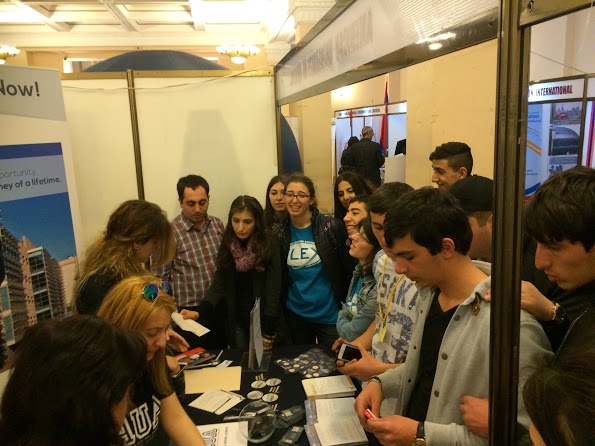 AUA Participates in Education XXI Century International Education Fair
YEREVAN, Armenia – From March 30th through April 1st, the American University of Armenia (AUA) was represented at the Education XXI Century EXPO 2016 in the Government House of the Republic of Armenia.
The event was open to all prospective applicants interested in learning more information about universities, institutes, colleges, and professional education lyceums. Graduate students, undergraduate students, and staff from AUA were there to provide information about the various academic programs at AUA, the application and admissions process, financial aid options, student life and more.
A raffle game was organized by the AUA Office of Admissions during the event to encourage casual interactions with prospective applicants. AUA prizes from the raffle included university themed cups, flash drives and tote bags.
Founded in 1991, the American University of Armenia (AUA) is a private, independent university located in Yerevan, Armenia and affiliated with the University of California. AUA provides US-style education in Armenia and the region, offering high-quality, graduate and undergraduate studies, encouraging civic engagement, and promoting public service and democratic values.