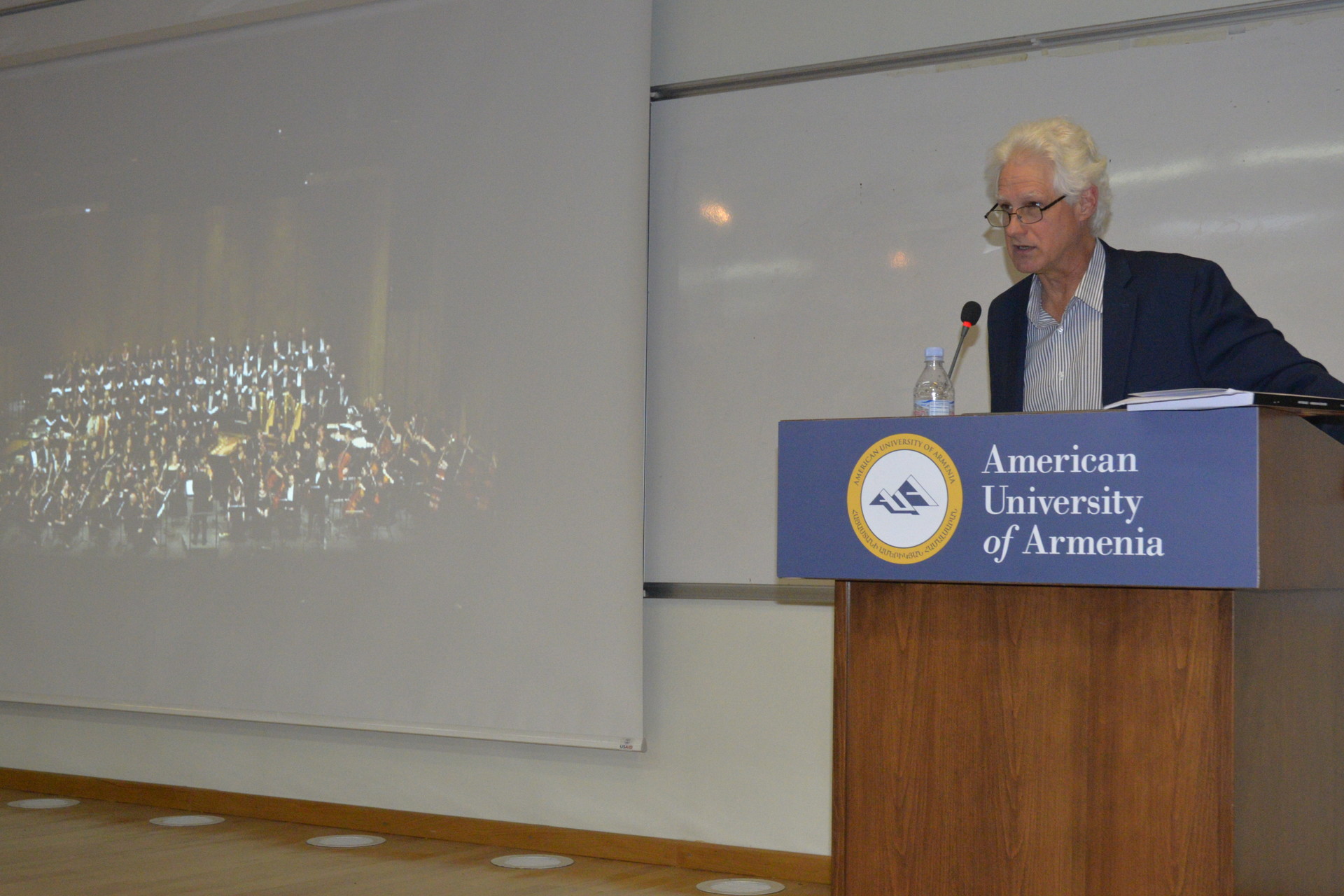 American Composer and UCLA Professor Ian Krouse Presents "Armenian Requiem" at AUA
3
min read
YEREVAN, Armenia – On March 22nd, American University of Armenia (AUA) College of Humanities and Social Sciences hosted a public presentation led by American Composer and University of California, Los Angeles (UCLA) Professor Ian Krouse. The presentation was about "Armenian Requiem", an evening length work for soloists, choir and orchestra, commissioned by the Lark Musical Society in honor of the 100th year commemoration of the Armenian Genocide, that premiered in Los Angeles. This presentation was part of a week long series of events with colleagues from UCLA.
Soundboard described Krouse's music as "absorbing, brutal, beautiful, and harsh, all at the same time." He is especially known for his pioneering efforts in the development of a brand new medium, the 'guitar quartet'. So far, he has composed up to ten that have been popularly received and featured regularly in the touring repertories of the leading groups of our time. Several of his solos appear to be firmly ensconced in the solo repertoire, having been championed and recorded by some of the world's most noted soloists including Randall Avers, William Kanengiser, Alberto Mesirca, Ronald Pearl, Ben Pila, Scott Tennant, and Jason Vieaux. His variations are included in the 'top 100 modern guitar solos to be recorded' list, while his air was played between the reading of names by Presidents Bush and Obama at the 2011 '9/11 Commemoration' at Ground Zero in New York City.
Though he is widely known for his guitar music, he has written music in nearly every genre including opera. Krouse's works have not only been globally recognized, but also performed and recorded by major musical acts, such as the Chicago Symphony, Ukraine Radio, Pasadena Chamber Orchestras, the Aureole Trio, Dinosaur Annex, 20th Century Consort, Pacific Serenades, Dilijan Ensemble, and Los Angeles Chamber Singers.
Recent premieres include the composer's first two works in the Armenian language: "Nocturnes" poems by Metzarents, Mahari and Terian, for baritone and string quintet, conducted last year in Los Angeles, Tuscany and Yerevan, with baritone Vladimir Chernov and the UCLA Camarades string ensemble. In addition, he composed "Fire of Sacrifice", poetry by Charents, for soprano and chorus, that premiered earlier this year by Vatsche Barsoumian and the Lark Geghard Choir.
Of "Nocturnes", critic Charles Fierro wrote in 2010, "The most striking work of the day was the song cycle Nocturnes for baritone and string quintet…The metaphors of darkness and light, both physical and psychological, inform the words and the music with depth and empathy. The trajectory of Krouse's score is powerful because it is complex and truthful. His skillful use of a widely extended tonality conveys strong emotion, as witnessed by the enthusiastic audience response. This is music that will repay many hearings. It clearly deserves a place in the standard repertory."
Throughout his career, Krouse has received dozens of awards, including an AT&T American Encores Grant (for the second performance of an orchestral work), three opera development grants from the National Endowment for the Arts, and several from the American Composer's Forum and Meet the Composer, Ford and Rockefeller Foundations, the Atlantic-Richfield Corporation, a BMI Award and the Gaudeamus Festival Prize.
Krouse's works have been recorded and released by Brain, Chandos, Delos, GSP, GHA, Koch, Lisaddell, Naxos, RCM, and Urtext Digital Classics among others. He holds a Bachelor of Music degree, as well as Performer's and Composer's Certificates from Indiana University at South Bend, and Master of Music and Doctorate of Music degrees in composition from the University of Southern California, and is currently a distinguished Professor of Music at the University of California, Los Angeles, where he also serves as the Chair of the Division of Composition and Theory.
Founded in 1991, the American University of Armenia (AUA) is a private, independent university located in Yerevan, Armenia and affiliated with the University of California. AUA provides US-style education in Armenia and the region, offering high-quality, graduate and undergraduate studies, encouraging civic engagement, and promoting public service and democratic values.