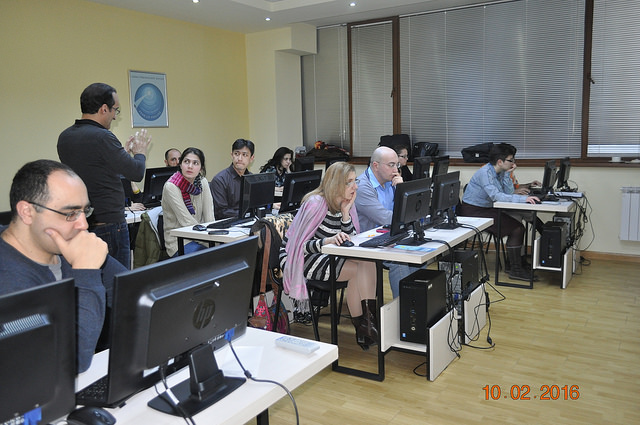 AUA Participates in First IBM Watson Workshop Series in Yerevan
2
min read
YEREVAN, Armenia – For the first time in the region, International Business Machines Corporation (IBM), Innovative Solutions and Technologies Center (ISTC), and Enterprise Incubator Foundation organized an IBM Watson workshop series in Yerevan, Armenia. The workshops were held in the MLab Regional Mobile Laboratories and in the Ararat Hall of Marriot Armenia from February 8th to the 11th.
Bringing the IBM expertise to Armenia, and creating a smoother path towards a Smarter Planet with the help of IBM Watson, ISTC held series of events that consisted of a full day training targeted as "Working with Watson Experience Manager", a hands-on workshop for professors only, and several presentations introducing Watson and BlueMix. The event was an excellent opportunity for major networking possibilities.
IBM's Watson System is at the forefront of cognitive computing. Leveraging advances in natural language processing and analytics, Watson has the unique ability to comprehend the subtle nuances of human language, sift through vast amounts of content, and provide evidence-based answers to users' questions.
AUA faculty and staff had their participation in the event. Adjunct Lecturers Hrachya Astsatryan and Aram Keryan, Teaching Associate Nare Karapetyan and College of Science & Engineering Operations Coordinator Rubina Danilova, along with a few other AUA alumni, attended this significant event, seeing it as a start for possible cooperation with IBM and a perspective of using Watson instance deployed in Armenia as well. This was a unique chance for all those who currently work with complex data analysis, and have an interest in cognitive solutions. The event was conducted by highly qualified expert from IBM USA, Mr. Armen Pischdotchian certified IBM Watson Learning Specialist.
Founded in 1991, the American University of Armenia (AUA) is a private, independent university located in Yerevan, Armenia and affiliated with the University of California. AUA provides US-style education in Armenia and the region, offering high-quality, graduate and undergraduate studies, encouraging civic engagement, and promoting public service and democratic values.