AUA's President and Vice President Pay a Visit to the Turkish-Armenian Community of Istanbul
3
min read
ISTANBUL, Turkey– President of the American University of Armenia (AUA) Armen Der Kiureghian and AUA Vice President of Operations Ashot Ghazaryan arrived in Turkey on November 27 for a two-day visit to learn more about the Armenian community of Istanbul and to introduce AUA to its youths.
From its Study Abroad program to degree programs leading to a bachelor's or a master's degree, AUA can meet a variety of student needs and interests, including those of Turkish-Armenian students. AUA, which holds US accredition from the Western Association of Schools and Colleges (WASC), offers three undergraduate and eight graduate degree programs in which more than 1,500 students are currently enrolled.
This was the first time that AUA had visited Turkey. Der Kiureghian and Ghazaryan were received by Sarven Sertsimsek, representing the educational commission of the Interfoundational Solidarity Platform (VADİP), who is also the founder's representative of the Aramian-Ounjian School.  Sertsimsek accompanied the guests to Pangalti Mkhitaryan Elementary and High School, Esayan Elementary and High School, and Getronagan Armenian High School. Der Kiureghian and Ghazaryan then visited the Armenian Patriarchate in Kumkapi, Istanbul, where they met with His Eminence Archbishop Aram Ateshian, General Vicar of the Armenian Patriarchate. 
Meetings continued into the late hours at the Nazar Shirinoghlu Hall in Ferikoy, Istanbul, where Der Kiureghian and Ghazaryan talked to 170 students from the graduating classes of five Armenian high schools in Istanbul, their principals, faculty representatives, and other administrators.  They also met with Nurhan Palakoghlu, the coordinator of the educational commission of the Interfoundational Solidarity Platform (VADİP) and its members, Professor Arsen Arshk, Silva Kuyumjyan, and Tamar Karasu, as well as with Azniv Metsaduryan of the Ferikoy Church Council.
Based on these discussions, it became apparent that the recognition of AUA-issued diplomas in Turkey is key to attracting Turkish-Armenian students to the university. The next day, the Hrant Dink Foundation, represented by several of its members, including its vice president, Delal Dink, and the chair of its advisory board, Ayse Soysal, invited presidents, vice presidents, and advisors from several Istanbul-based Turkish universities to meet with Der Kiureghian and Ghazaryan. Sabanci University representatives were present and included Nihat Berker, president of the university, and Sondan Durukanoğlu Feyiz, its vice-president, as well as other representatives from the university.  From Istanbul Bilgi University, Emre Gonen, advisor to the university's president on international affairs, took part in the meeting. Bogazici University was represented by its vice-provost, Taner Bilgic; and Aylin Vartanyan from the university' Peace Education, Application, and Research Center was also at the meeting.
The university officials explored possible student and faculty exchange programs between AUA and each of their universities, which could be implemented within the framework of Erasmus+, a European Union program which aims to support actions in the fields of Education, Training, Youth and Sport. Both Armenia and Turkey are Erasmus+ program countries. The issue of formal recognition of AUA-issued diplomas in Turkey was also discussed.
The guests from Armenia also paid a visit to the historic Surb Prkich Armenian hospital where they met with its prestigious board of directors, including its president Bedros Shirinoghlu. Founders' representatives from Istanbul's Armenian schools were again present and joined the guests on a tour of the hospital and the adjoining old-age home. During a presentation at the hospital, Der Kiureghian and Ghazaryan again talked about AUA and its programs, and answered additional questions from those present. Sevan Agopyan, secretary of Haycar, the Istanbul-based Society of Armenian Architects and Engineers, accompanied Der Kiureghian and Ghazaryan on the second day of their visit, until their departure the next day.
AUA's Der Kiureghian and Ghazaryan expressed their deep gratitude for the warm welcome they received by Istanbul's Armenian community and announced that the doors of AUA are wide open for students from Turkey.
Media coverage:
Jamanak: ԱՐՄԷՆ ՏԷՐ-ԿԻՒՐԵՂԵԱՆ ԵՒ ԱՇՈՏ ՂԱԶԱՐԵԱՆ ՄԵՐ ՄԷՋ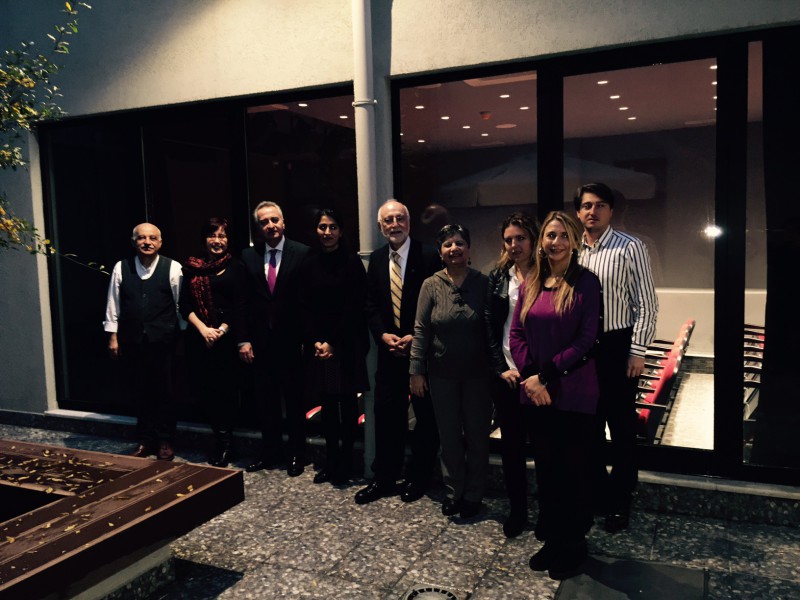 ************
Founded in 1991, the American University of Armenia (AUA) is a private, independent university located in Yerevan, Armenia and affiliated with the University of California. AUA provides a global education in Armenia and the region, offering high-quality, graduate and undergraduate studies, encouraging civic engagement, and promoting public service and democratic values.