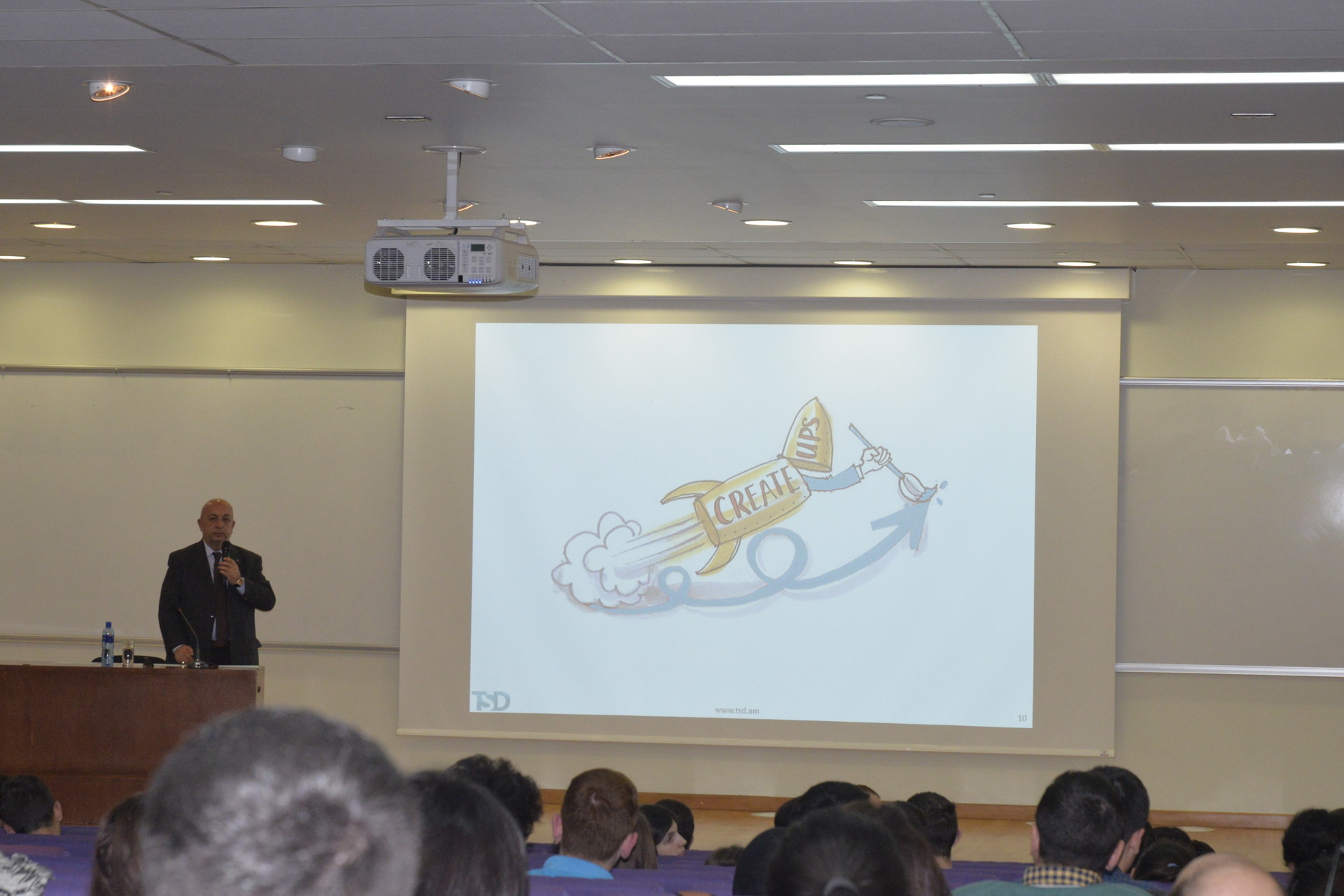 Beyond Academics: American-Armenian IT Executive, Vahan Chakarian, Gives Talk on How To Start a Career in the IT Business World
3
min read
YEREVAN, Armenia – D​r. Vahan Chakarian, founder of Technology and Science Dynamics (TSD) in Santa Barbara, California, USA, and Yerevan, Armenia, gave a lecture to AUA students on November 16​ about how to succeed in the IT field after graduation. TSD is known in Armenia as the developer of ArmTab and ArmPhone, though these products only account for about 10% of the company's activities, according to Chakarian. In the US, TDS develops equipment for the forensic science industry and is among the five best companies meeting the forensic needs of the US government, according to the American-Armenian IT executive.
During the event, which was organized by AUA Startups Undergraduate Student Club, Chakarian shared his thoughts and life experiences, and provided practical examples of best practices for students to follow to develop their career in the business of IT, beyond the academic setting in the real business world.
Chakarian, who is a native of Yerevan, offered practical advice for aspiring IT professionals, indicating that the forensic science field is wide open for new recruits. "The forensic science market is worth more than 700 billion dollars. There is a need for experts in the field. It's entirely realistic that we can train 50­ to100 experts to work in the field in the next few years, thanks to bright students like you at AUA," Chakarian, who has spent 35 years in the US, said.
However, he cautioned students not to rely solely on their formal education. "There's little practical application for what is taught in schools. You don't know business just because you have an MBA, a high GPA, a high IQ, or honors. Knowledge about business comes with time and experience. No university, nor class, nor professor can lead you to success.  Business is not a single field of endeavor," Chakarian emphasized.
He advised students to think, be attentive, and listen; to use their common sense; and to show a respectful attitude towards everyone and everything. One might stumble if he or she is "not paying attention to the question" which he demonstrated by posing a possibly misleading question to audience members. Chakarian encouraged, first and foremost, the application of reason and logic.
Some startup entrepreneurs make the mistake of calculating profits and costs first, at the expense of a vision, and end up falling short. "You must have a vision. Chase the vision, not the money. The money will end up following," Chakarian said.
A key task for Armenian entrepreneurs is to elevate the brand of the country. "We're always complaining. If we always complain, we can't brand the country.  Take the positive, elevate it, spread it, diffuse it, and fix the problems. You can't grow if you're always thinking of weaknesses," Chakarian said.
Chakarian was an excellent student until he reached fourth grade. At that point, he lost interest in school and got into trouble while engaging in the "business" of duplicating movie tickets and selling them for cheaper than the legitimate tickets. He ended up in the "juvenile room" of the local authorities and, not until a caring teacher picked up on his potential and reignited his interest in school, did his life change for the better.
Chakarian gave some tough advice on how to live life, basing it on his experiences starting in his adolescent years. "Life is tough: It was tough then; it is tough now. There are many obstacles, expected and unexpected. No matter what you want to do, nothing will be easy. You will have to work for it. You will have to sacrifice your personal time and your personal pleasure. You may not reach your goals, if you don't," Chakarian said.
Chakarian also touched upon the role of government in facilitating economic growth. "Government's role is to develop the right laws with the help of experts, and then to step back and make sure that they function properly,' Chakarian said.
The Chakarian event was AUA Startups Undergraduate Student Club's inaugural event. The newly established group's goal is to create opportunities for students who have business ideas, want to create a new startup, have existing startups, want to join an existing startup team, or want to be engaged in entrepreneurial network.
Founded in 1991, the American University of Armenia (AUA) is a private, independent university located in Yerevan, Armenia and affiliated with the University of California. AUA provides a global education in Armenia and the region, offering high­quality, graduate and undergraduate studies, encouraging civic engagement, and promoting public service and democratic values.

Dr. Vahan Chakarian during a presentation at AUA

Hilda Grigorian introducing Dr. Chakarian.  Grigorian is the faculty mentor/advisor of AUA Startups Undergraduate Club, which organized the event.