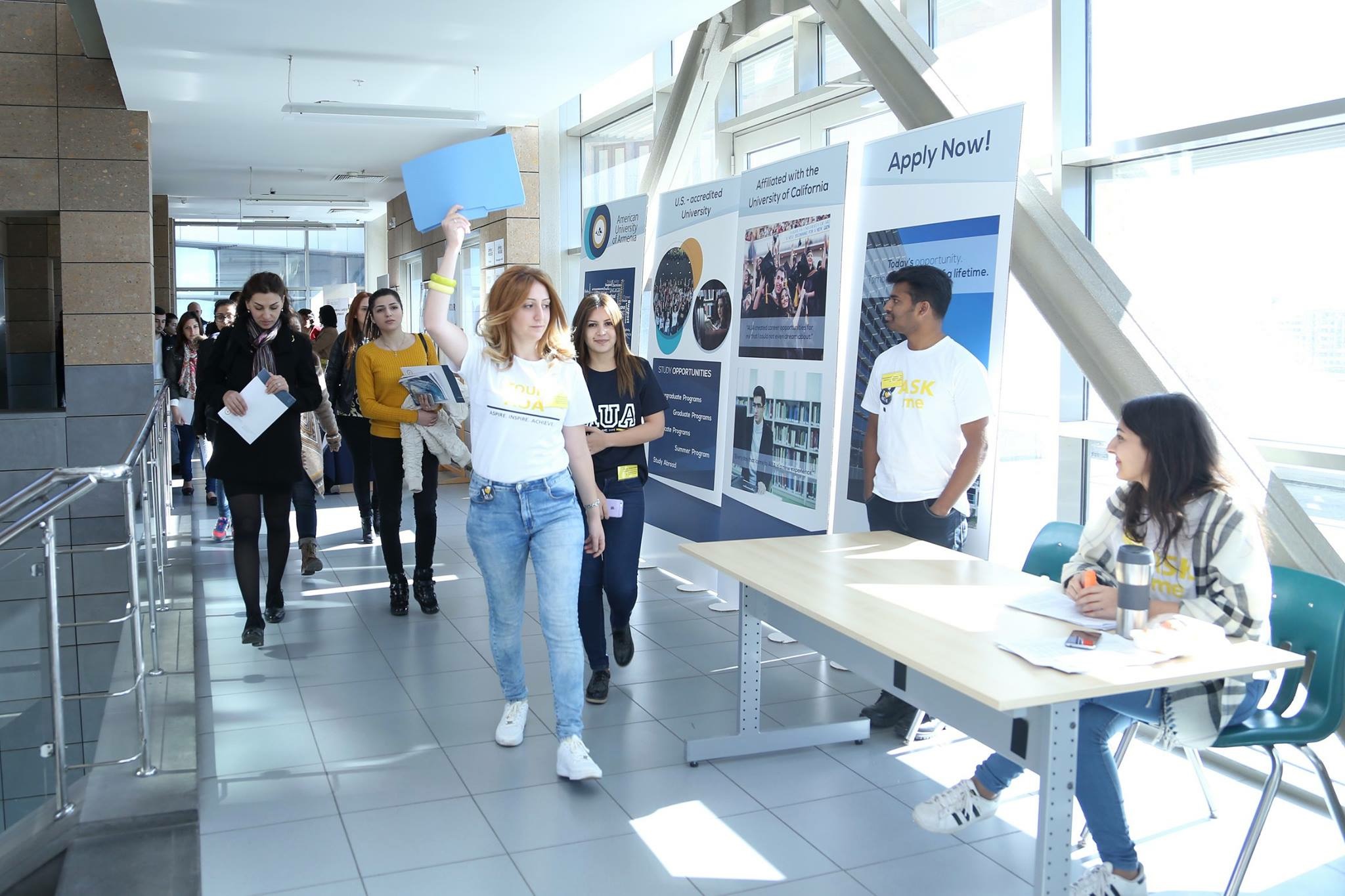 Graduate Programs Open House Registers Growth in Number of Prospective Students Attending
2
min read
YEREVAN, Armenia – More than 200 prospective students were present at the American University of Armenia (AUA) Graduate Programs Open House that took place on November 14. AUA Provost Randall Rhodes, as well as officials from the Office of Admissions and Office of the Registrar, welcomed the attendees in AUA's Manoogian Hall and introduced them to AUA, its eight graduate programs, the requirements for admission into the programs, and financial aid information.
The open house registered more than 22% growth in the number of attendees, in comparison to the number in November 2014. In his welcoming speech, Provost Rhodes underscored the benefits of an AUA education, in particular the advantages of studying at an accredited institution that enjoys international recognition. Karina Satamian, Admissions and Recruitment Officer, and Edmond Ghulyan, Operations Coordinator, both from the Admissions Office, provided a detailed overview of the graduate programs and their faculty, as well as the admissions process. Registrar Chaghig Arzrouni-Chahinian was on hand to talk about tuition assistance and the generous aid programs available to finance an AUA education. AUA policy is that no Armenian citizen admitted to AUA will be denied the opportunity to study there because of demonstrated financial need.
The attendees were then invited to attend break-out sessions focusing on individual graduate programs at AUA.  Faculty, alumni, and current students joined in to share their experiences at the university. A tour of the campus was also possible prior to the start of the day's presentations.
While the break-out sessions ran in two rounds, Satamian, Ghulyan, and Arzrouni-Chahinian were available in Manoogian Hall to answer questions until 3 pm, at which time the open house concluded.
Founded in 1991, the American University of Armenia (AUA) is a private, independent university located in Yerevan, Armenia and affiliated with the University of California. AUA provides a global education in Armenia and the region, offering high-quality, graduate and undergraduate studies, encouraging civic engagement, and promoting public service and democratic values.