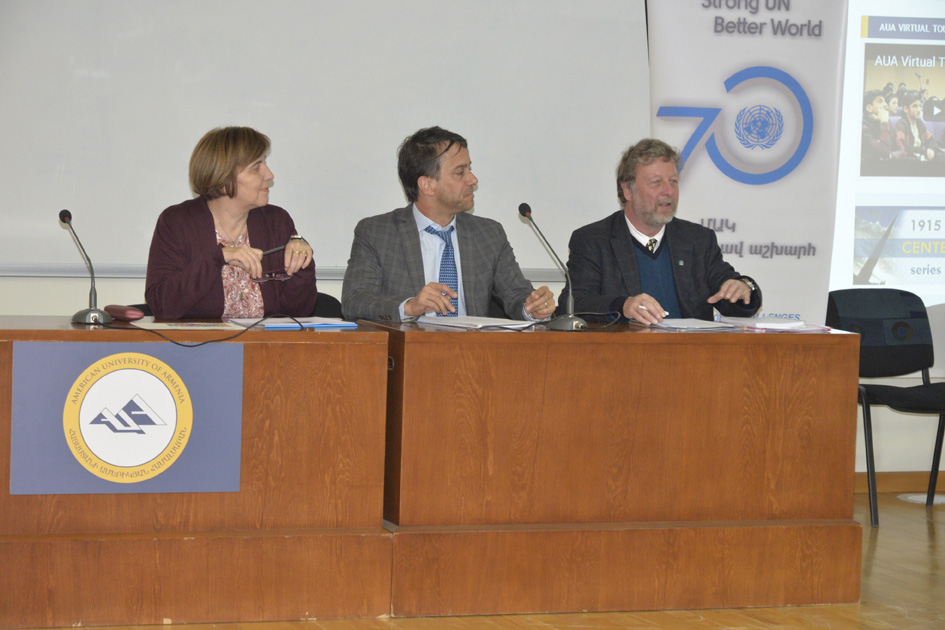 A Panel Discussion at AUA Marks the UN's New Global Development Agenda and Its Work in Armenia; UN Corner Inaugurated at AGBU Papazian Library
3
min read
YEREVAN, Armenia – The American University of Armenia (AUA) and the United Nations in Armenia organized a panel discussion on November 5 to jointly mark the UN's 70th anniversary, as well as the adoption by the international organization of a set of 17 Sustainable Development Goals (SDGs) that are meant to steer the world out of poverty, fight inequality and injustice, and tackle climate change by 2030.
Mr. Bradley Busetto, UN Resident Coordinator/UNDP Resident Representative in Armenia, Ms. Tanja Radocaj, UNICEF Representative in Armenia, and Mr. Christoph Bierwirth, UNHCR Representative in Armenia gave an overview of the new development goals and their potential significance for Armenia. AUA President Armen Der Kiureghian, Adjunct Lecturer Nareg Seferian who organized the event, as well as AUA faculty, staff, and students were present at the event.
UNDP's Mr. Busetto said that progress in the sphere of development is largely dependent on societies and states, and on their level of commitment to the SDGs, rather than on unrealistic expectations that the UN can implement them single-handedly. The 2030 Agenda for Sustainable Development is "expensive and ambitious," according to Mr. Busetto. But, the alternative—fixing problems and disasters that may happen if the SDGs are not heeded by societies and countries—would be exponentially more expensive.
Ms. Radocaj of UNICEF shared a presentation with the audience highlighting the importance of that body's work both in Armenia and around the world. The wide-ranging Sustainable Development Goals have been adopted by numerous funds, programs, and specialized agencies of the UN, including UNICEF. "Almost all SDGs are directly connected to children, their rights and wellbeing," Ms. Radocaj said. The SDGs are "actually about children. If we don't have a healthy planet, future generations will suffer," she continued.
UNHCR's chief in Armenia saw a link between development and the humanitarian needs of Syrian refugees in Armenia. SDG 16, which is about the need to have strong state institutions, may bear on the Armenian case, where institutional weaknesses have meant that about 16,000 to 17,000 Syrian refugees have become integrated into the "misery of the Armenian health system," according to Mr. Bierwirth.
In addition to encouraging AUA students to be welcoming towards refugee students in their midst, Mr. Bierwirth underscored the refugees' potential to Armenian society, not just at the individual level, but, more importantly, at the societal level. "In your day-to-day activities, reach out to refugee students. This is something that comes from the heart, from a welcoming culture, and from solidarity with their plight," Mr. Bierwirth said.
President Der Kiureghian delivered closing remarks following the panel discussion and invited everyone present to proceed to AUA's AGBU Papazian Library, where the UN Corner was formally opened. Mrs. Armineh Haladjian, Officer-in-Charge at the UN Department of Public Information, Yerevan Office, proudly noted that this marks "the first UN entry" into AUA space.
"This is our 15th UN Corner that we are opening today in the main universities and other public sites of Armenia. With this we are bringing the UN word and information closer to the AUA audience and its users," Mrs. Haladjian said in reference to the close to 200 pieces of reference books and reports in the Corner, in addition to the substantial on-line resources made available. Representatives of the UN expressed readiness to take part in future events and activities jointly planned with Papazian Library.
"On behalf of the Papazian Library staff, let me express our deep gratitude to the UN Armenia office for enriching the library collection with more valuable and up-to date materials. Considering that the library serves not only AUA staff and students, but is also open to the community at large, we assure you that a great number of researchers throughout Armenia will benefit from these materials," Ms. Hasmik Galstyan, Head of Reference and Circulation Services at the library, said.