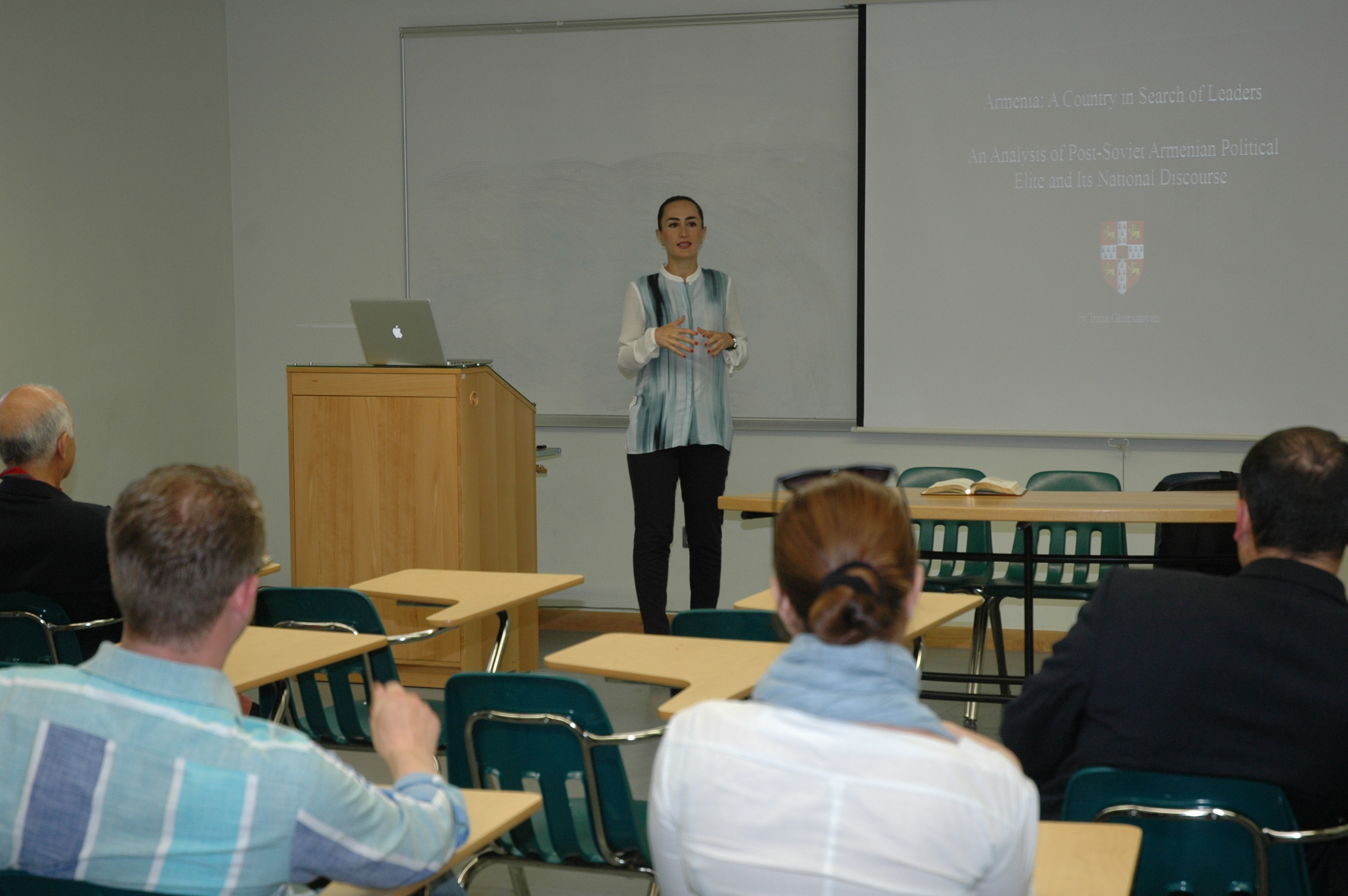 PSIA Seminar Discusses Post-Soviet Armenian Political Elite and Its National Discourse
2
min read
YEREVAN, Armenia – On May 11, 2015, the American University of Armenia (AUA) Political Science and International Affairs (PSIA) program held a seminar on "Post-Soviet Armenian Political Elite and Its National Discourse" with Dr. Irina Ghaplanyan, PhD in Political Science and International Studies. The talk was the last of the semester in a series of PSIA seminars held everyMonday from 3:30 – 5:00 PM.
Dr. Ghaplanyan presented her study, beginning with the various conceptualizations and empirical findings from her research on the processes behind the emergence of new leadership. She then moved on to discuss how narratives of politically relevant national policies are being constructed and articulated, and how domestic political situations shape both narratives and subsequent strategies of foreign policy. Here the author emphasized the overwhelming role of political leadership in shaping and articulating this politically relevant national discourse, especially in reality of post-imperial disintegration.
The speaker reflected on the role of political leadership of Armenia during the First Republic, the Soviet period and in the course of Armenia's engagement in war and simultaneous acquisition of independence. Dr. Ghaplanyan dwelled most extensively on the period of post-Soviet Armenia, highlighting the processes prompting the emergence of a new political class and how the three presidential administrations of independent Armenia articulated the state's national interest and acted upon it.
Through methodology of historical narration and discourse analysis and through the analysis of four politically and nationally relevant issues – the Nagorno-Karabakh conflict, relations with Turkey, the Diaspora, and geopolitical positioning – the speaker argued that post-Soviet Armenia's political leadership "failed the national project," by means of constructing and articulating the national narrative for the purposes of power appropriation, power preservation, and self-reproduction.
Founded in 1991, the American University of Armenia (AUA) is a private, independent university located in Yerevan, Armenia and affiliated with the University of California. AUA provides a global education in Armenia and the region, offering high-quality, graduate and undergraduate studies, encouraging civic engagement, and promoting public service and democratic values.