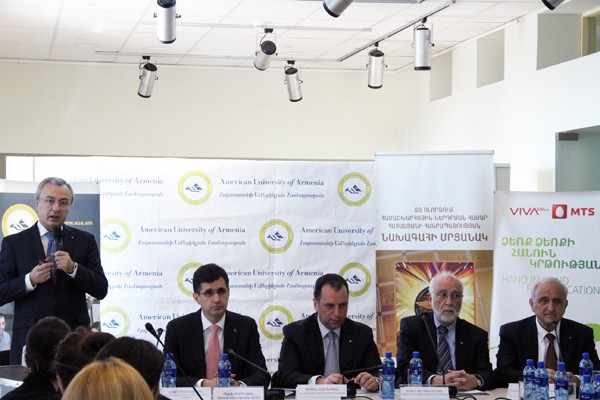 Mario Mazzola and Wife Luciana Cavallet Gift $1 Million Student Scholarship Endowment to AUA
YEREVAN, Armenia – On April 18, 2015, the American University of Armenia (AUA) held a press conference to announce that Mario Mazzola, Chief Development Officer at Cisco Systems, Inc., and his wife, Luciana Cavallet, have gifted the university a $1 Million Student Scholarship Endowment. Through their generosity, beginning in Fall 2016, up to 40 AUA students will benefit from full and partial scholarships made possible by the endowment each year.
Mr. Mazzola stated, "I would like to make our contribution to the progress of IT through high level education. I would like to inform you that Luciana Cavallet and I have committed and already have entered into an agreement to contribute one million U.S. dollars to the Scholarship Endowment Fund of the American University of Armenia. AUA is a very successful and proven collaborator of the University of California and Ministry of Education of the Government of Armenia. The long track record and achievements of AUA are very impressive. We hope AUA continues its collaborations with top universities in Armenia and the world, and continues its passionate efforts to achieve its vision, as well as help Armenia in her quest to achieve its own challenging goals and vision and fulfill its destiny."
Mr. Mazzola is the most recent recipient of the Global Award of the President of RA for Outstanding Contribution to Humanity through IT, which was first established in 2009 with the aim of supporting the development of the IT sector. The award is granted annual to those who have made exceptional contributions in the fields of technology, education, finance, and more. Former recipients include Co-Founder of Apple Computers, Inc. Steve Wozniak, former Chairman of the Board of Intel Corporation Craig Barrett, Chairman Emeritus of Sinaptics, Inc. Federico Faggin, and former CEO of Hitachi Electronic Devices Group Tsugio Makimoto.
After receiving the award, Mr. Mazzola and his wife decided to make a gift to Armenia and selected AUA as the recipient.
Founded in 1991, the American University of Armenia (AUA) is a private, independent university located in Yerevan, Armenia and affiliated with the University of California. AUA provides a global education in Armenia and the region, offering high-quality, graduate and undergraduate studies, encouraging civic engagement, and promoting public service and democratic values.
Media coverage:
ARKA
http://telecom.arka.am/en/news/telecom/cisco_system
Lragir
http://www.lragir.am/index/eng/0/economy/view/33191
Slak.am
http://m.slaq.am/eng/news/1017263
Noyan Tapan
Engl- http://nt.am/en/news/204973/
Arm- http://nt.am/am/news/204973///?hayworld=
Yerkir Media
http://www.yerkirmedia.am/?act=news&lan=hy&id=26032
Joxovurd
168 Jam
http://168.am/2015/04/18/480662.html
http://168.am/2015/04/18/480676.html
Aravot
http://www.aravot.am/2015/04/18/562528/
 Youtube
https://www.youtube.com/watch?v=PW_XDRx4Yk8
I-in lratvakan
http://m.1in.am/am/1601070.html
iTel
http://www.itel.am/am/news/7031

 «ՏՀԶՎԿ» ՀԿ Պաշտոնական կայք
http://www.infosys.am/Pages/Home/newsdetails.aspx?nID=1365#.VTS4oCGqpBc
Newsinfo
http://b24.am/other/54245.html
It trend
http://ittrend.am/2015/04/20/it-13/
Mediagid
http://mediagid.am/ru/news/—–1——1063824