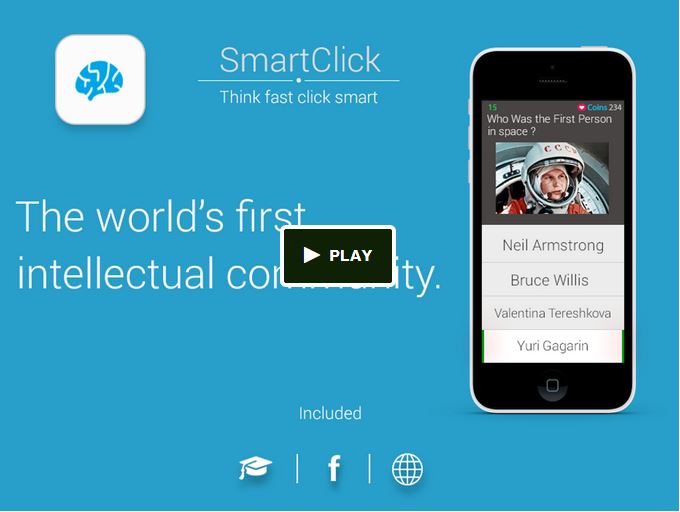 AUA Students Contribute to Design and Development of Revolutionary Trivia App
2
min read
YEREVAN, Armenia – In October 2014, four students from the American University of Armenia (AUA) and one student from l'Université Française en Arménie (UFAR) came together and began developing a new trivia app called SmartClick, with the goal of creating and promoting an alternative method of education through quizzes. Erik Arakelyan (Developer, BS Computational Sciences), Tigran Bazarchyan (Public Relations, BA English and Communications), Gurgen Hakobyan (Public Relations, BA English and Communications), Vahagn Tumanyan (Developer, BS in Computational Sciences), and Hayk Gadukyan (CEO, UFAR) are the initiators of the project, which is in its final stages of development.
"Our aim is to create an arena for intelligent people," said Arakelyan. "Everyone knows that people spend a lot of time using apps. We decided to create an app that will give people the opportunity to simultaneously gain knowledge."
Although several popular trivia apps currently exist, the creators of SmartClick maintain that their product is different because it includes a feature that supports competition. Although many trivia apps allow for person-against-person competition, SmartClick emphasizes society or team competition. The creators hope that their user reach will one day span the globe, eventually allowing for the top 10 users from each country to compete against each other.
When asked about the challenges they faced, Arakelyan stated, "The only challenge we faced was funding, because the app needs powerful servers to run on. We do not have that much funding yet, but I hope that in the near future we will reach that goal too."  
The creators have established a Kickstarter campaign and posted a demo video about the app in order to attract funders. To find out more about the project, watch the video, or contribute, visit their campaign here.
Founded in 1991, the American University of Armenia (AUA) is a private, independent university located in Yerevan, Armenia and affiliated with the University of California. AUA provides a global education in Armenia and the region, offering high-quality, graduate and undergraduate studies, encouraging civic engagement, and promoting public service and democratic values.