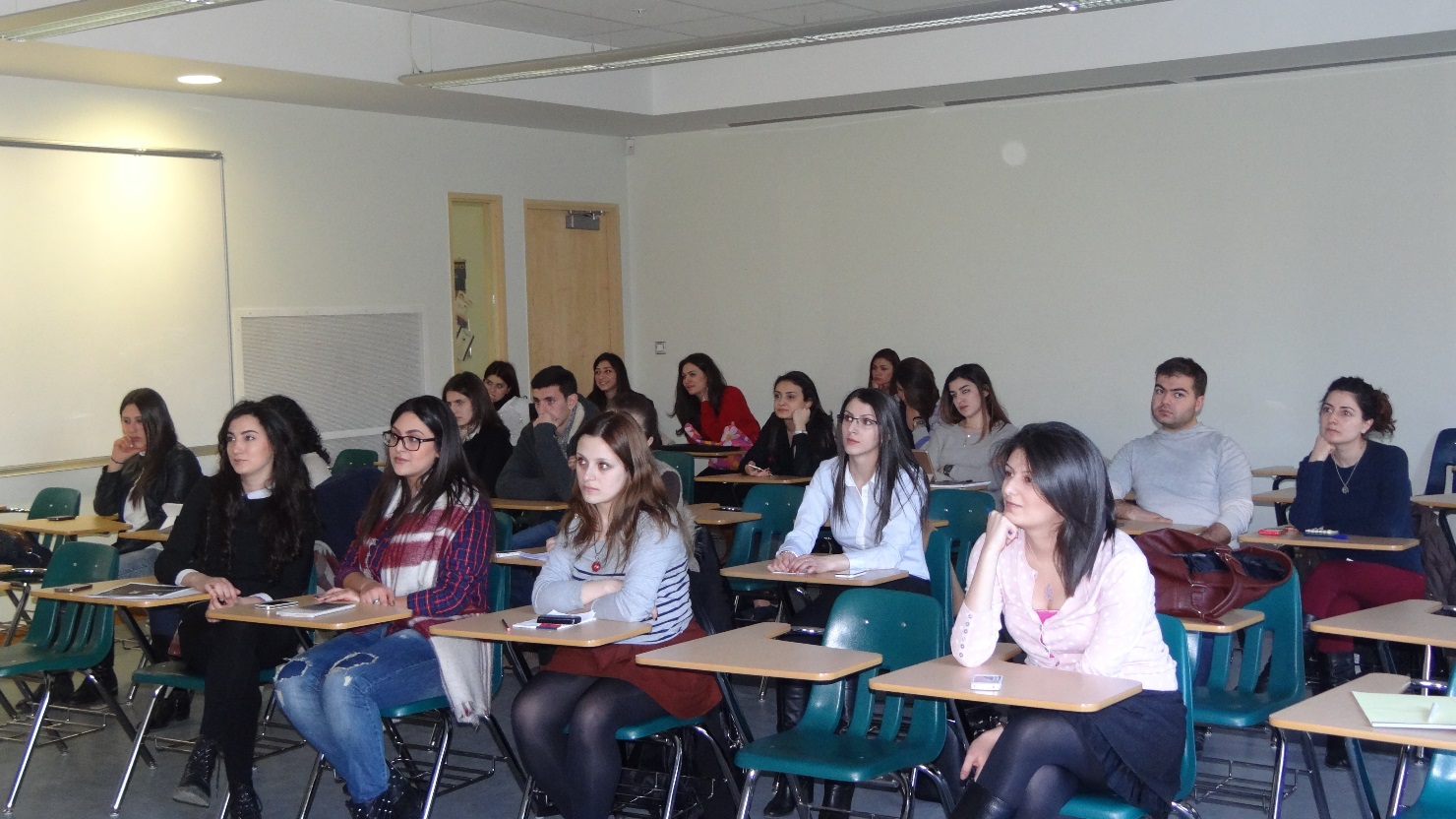 PSIA Program Holds Information Session on European Forum Alpbach
YEREVAN, Armenia – On February 23, 2015, the American University of Armenia (AUA)'s Political Science and International Affairs (PSIA) program hosted an information session for students and recent graduates about the European Forum Alpbach (EFA). The speakers were Alpbach Armenia Initiative Group President Marine Sargsyan, board member Armine Bagiyan, and EFA alumna Anush Mkrtchyan. The event was part of a series of PSIA seminars that are held every Monday at 3:30 PM. Dr. Simon Clarke, Chair of the PSIA program, introduced the speakers.
The session provided detailed information about the annual international forum that brings more than 650 students to a tiny village in the Austrian Alps to discuss topics such as health, politics, law, environment, economics, business and more. The speakers discussed all matters related to the forum, including scholarship opportunities, participation requirements, application procedures, and selection criteria.
Since 1945, the European Forum Alpbach has hosted their two-week annual conference, bringing together hundreds of participants from different backgrounds to discuss important global issues. The topic for this year's forum is "InEquality."
Marine Sargsyan, is the President of the IG Alpbach Armenia. She holds BA and MA degrees in History from Yerevan State University, a Public Servant diploma from the Public Administration Academy of the Republic of Armenia and a Human Rights diploma from Raoul Wallenberg Institute of Human Rights and Humanitarian Law in Sweden. Armine Bagiyan is a founding member of the IG Alpbach Armenia and is a second year student in AUA's PSIA program.
Founded in 1991, the American University of Armenia (AUA) is a private, independent university located in Yerevan, Armenia and affiliated with the University of California. AUA provides a global education in Armenia and the region, offering high-quality, graduate and undergraduate studies, encouraging civic engagement, and promoting public service and democratic values.
The Political Science and International Affairs (PSIA) program hosted an information session for students and recent graduates about the European Forum Alpbach
The session provided detailed information about the annual international forum that brings more than 650 students to a tiny village in the Austrian Alps to discuss topics such as health, politics, law, environment, economics, business and more