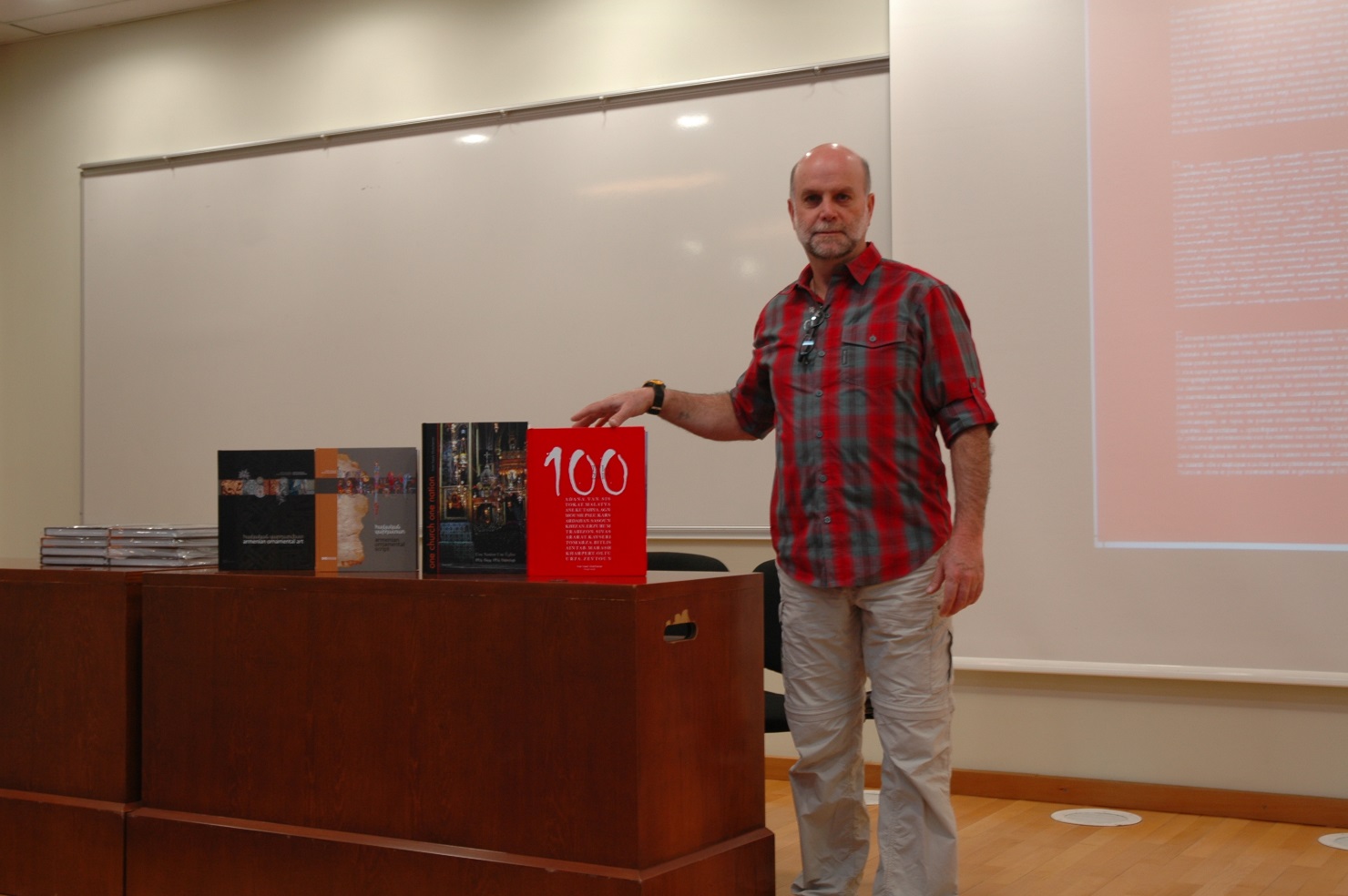 100 Years in Photographs: Hrair Hawk Khatcherian Presents at AUA
YEREVAN, Armenia – On February 19, 2015, celebrated photographer Hrair Hawk Khatcherian gave a lecture at the American University of Armenia (AUA) and presented his 12th book, titled "100 (1915-2015)," dedicated to the 100th anniversary of the Armenian Genocide. The lecture was part of AUA's 1915 Centennial series.
Khatcherian shared his photographs with the audience, presenting his unique perspective on Armenian culture, history, and heritage through imagery. The photographs consisted mostly of Armenian churches, manuscripts and historical documents, and architectural samples from all over the world.
Tom Samuelian, Dean of the College of Humanities and Social Sciences, introduced the world renowned speaker and stated, "Hrair has seen more Armenian monuments and historical sights than anyone else in the world. If a picture is worth a thousand words, then he's written an encyclopedia."
Khatcherian was born in Lebanon in 1961 and moved to Canada in 1984. In 1988, he began to actively participate in Diaspora activities related to the Karabakh Movement, and it is at this point in his life that he became profoundly and permanently aware of his roots, his origins, and his Armenian national identity.
Despite being told in the early 1990's that he had terminal cancer, Khatcherian has spent almost three decades presenting at exhibitions, conferences, and photographic lectures around the globe. His photographs have appeared in numerous magazines, newspapers, books, and publications.
Founded in 1991, the American University of Armenia (AUA) is a private, independent university located in Yerevan, Armenia and affiliated with the University of California. AUA provides a global education in Armenia and the region, offering high-quality, graduate and undergraduate studies, encouraging civic engagement, and promoting public service and democratic values.
Celebrated photographer Hrair Hawk Khatcherian gave a lecture at the American University of Armenia (AUA) and presented his 12th book, titled "100 (1915-2015)," dedicated to the 100th anniversary of the Armenian Genocide
Khatcherian shared his photographs with the audience, presenting his unique perspective on Armenian culture, history, and heritage through imagery