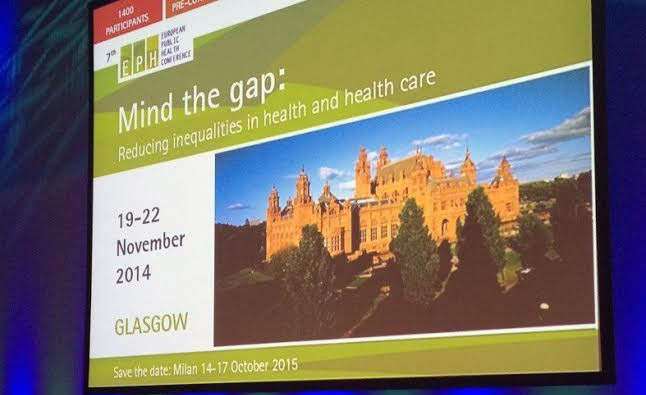 School of Public Health Represents AUA at 2014 International Conferences
2
min read
This past year, the American University of Armenia (AUA) School of Public Health (SPH) faculty and researchers gave 10 different research presentations at various scientific conferences worldwide. Participation in these conferences promotes international recognition of AUA in public health and health services research.
In November 2014, Arusyak Harutyunyan (MPH 2009) and Aida Giloyan (MPH 2007) received competitive partial scholarships to present their work at the 7th European Public Health Conference, "Mind the Gap: Reducing Inequities in Health and Health Care," in Glasgow, Scotland.
They presented research papers authored by Harutyunyan, Giloyan, and their colleagues on the following topics: 'Determinants of hair nicotine concentration among 2-6 year old children in Yerevan, Armenia,' 'Refractive errors and nutritional status among socially vulnerable school children in Yerevan, Armenia,' 'Financial/material support and access to care as determinants of recovery from post-earthquake psychopathology: a 23 year longitudinal study,' and 'Barriers for better emergency medical services in Armenia trigger distrust of the general population towards services.' The abstracts have been published in the 2014 European Journal of Public Health, Volume 24, Supplement 2.
In October 2014, Nune Truzyan (MPH 2003) received a competitive International Travel Scholarship to present at the 36th annual meeting of the Society for Medical Decision Making (SMDM) in Miami, Florida. The theme of the conference was "Medical Decision Making Among Diverse Populations: Advancing Practice, Policy and Science." Truzyan presented her research, 'How family-based counseling/education can impact the health of patients with tuberculosis in Armenia, 2013.'
In March 2014, Narine Movsisyan (MPH 1997) presented two research papers at the 6th European Conference on Tobacco or Health, held in Istanbul, Turkey. The research papers, authored by Movsisyan and her colleagues, discussed 'Cigarette smoking among 15-49 year old men: evidence from the 2005 and 2010 Armenia Demographic and Health Surveys' and 'Tobacco advertisement, promotion and sponsorship in Armenia.'
The AUA School of Public Health works actively to improve the health of the populace and health services in Armenia and the region through interdisciplinary education and development of public health professionals and others to be leaders in public health, health services research and evaluation, and health care delivery and management.
Founded in 1991, the American University of Armenia (AUA) is a private, independent university located in Yerevan, Armenia and affiliated with the University of California. AUA provides a global education in Armenia and the region, offering high-quality, graduate and undergraduate studies, encouraging civic engagement, and promoting public service and democratic values.
Aida Giloyan and Arusyak Harutyunyan
Nune Truzyan and Lusine Abrahamyan