Two-Day National Quality Assurance Conference Held at AUA
2
min read
YEREVAN, Armenia – From December 4-5, 2014, the American University of Armenia (AUA) co-hosted a conference entitled Fostering a Culture of Quality in Armenian Tertiary Education Systems as part of Quality Assurance Week, organized by the National Center for Professional Education Quality Assurance Foundation (ANQA). Following the formal opening by ANQA Director Ruben Topchyan, AUA President Dr. Armen Der Kiureghian offered welcoming remarks to the guests. AUA staff and faculty members Catherine Buon, Varduhi Petrosyan, and Sharistan Melkonian were among the presenters during the conference.
The aim of Quality Assurance Week, an initiative of ANQA, was to present and discuss the practice of institutional accreditation processes, general results, decision-making approaches, the internationalization and research implementation problems revealed during the accreditation process, and the transition to program accreditation process.
Speakers and presenters at the conference included local and international experts, accreditation committee members, quality assurance staff, faculty and students, including ANQA Director Ruben Topchyan, who discussed "Quality Assurance as a Stimulation for Change Management" and provided background regarding ANQA's experience in program accreditation and further prospects. Other presenters included Wolfgang Harmardt, Vice Rector at Public Administration Academy of RA, Tigran Mnacakanyan, Associate Professor at Armenian State University of Economics, Romain Hulpia, international expert, and many more.
The first day of the conference focused on the benefits as well as challenges of the accreditation process. Sharistan Melkonian, Director of Assessment and Accreditation at AUA, presented on "Lessons Learned through Institutional Accreditation," while Varduhi Petrosyan, Associate Dean of the AUA School of Public Health, presented on the "Internationalization of Research: Student and Alumni Involvement."
The second day of the conference highlighted the main approaches of program accreditation. Among the presenters that day was Dr. Catherine Buon, Associate Dean for General Education at AUA, who discussed "Institutionalizing Quality Assurance through the Academic Program Review Process."
Workshops were also held throughout the two-day conference in which leading experts presented mechanisms for effective implementation of self-evaluation and other elements of the institutional accreditation process.
Founded in 1991, the American University of Armenia (AUA) is a private, independent university located in Yerevan, Armenia and affiliated with the University of California. AUA provides a global education in Armenia and the region, offering high-quality, graduate and undergraduate studies, encouraging civic engagement, and promoting public service and democratic values.
From left to right: Dr. Armen Der Kiureghian, Mikayel Narimanyan, Ruben Topchyan, and Ashot Saghyan
Audience members at Quality Assurance Week at AUA
Sharistan Melkonian, Director of Assessment and Accreditation at AUA, presented on "Lessons Learned through Institutional Accreditation"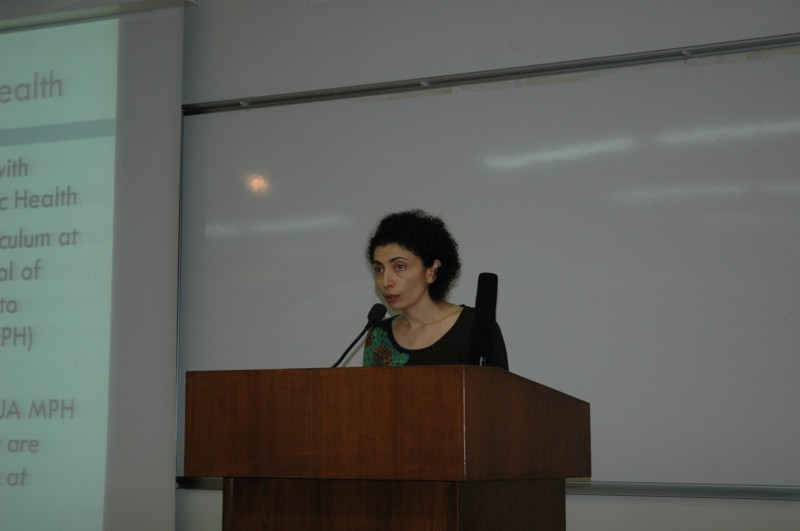 Varduhi Petrosyan, Associate Dean of the AUA School of Public Health, presented on the "Internationalization of Research: Student and Alumni Involvement"
Dr. Catherine Buon, Associate Dean for General Education at AUA, discussed "Institutionalizing Quality Assurance through the Academic Program Review Process"