AUA Students Visit National Assembly of Armenia
< 1
min read
YEREVAN, Armenia – On December 1, 2014, American University of Armenia (AUA) students enrolled in 'Introduction to Political Science' made a visit to the Armenian Parliament. The students were accompanied by Dr. Simon Clarke, Chair of the Political Science and International Affairs (PSIA) program and Edita Ghazaryan, PSIA second year student and Teaching Assistant.
During the visit, students were introduced to the main role and functions of the National Assembly, which was then followed by an observation of a parliament debate session. Finally, students met with Hermine Naghdalyan, Vice President of the National Assembly, for a discussion.
Dr. Simon Clarke commented that, "We have been studying the parliaments of different countries, how they are formed, how they operate, and how they make decisions. Students learned a lot from listening to the debates and from having an opportunity to hear from and talk to the Deputy Speaker herself."
Edita Ghazaryan stated, "It was a very good experience for the students because they had the opportunity to see the theories they've been learning about in class applied in a real life setting."
Founded in 1991, the American University of Armenia (AUA) is a private, independent university located in Yerevan, Armenia and affiliated with the University of California. AUA provides a global education in Armenia and the region, offering high-quality, graduate and undergraduate studies, encouraging civic engagement, and promoting public service and democratic values.
PSIA students visit the National Assembly
PSIA students visit the National Assembly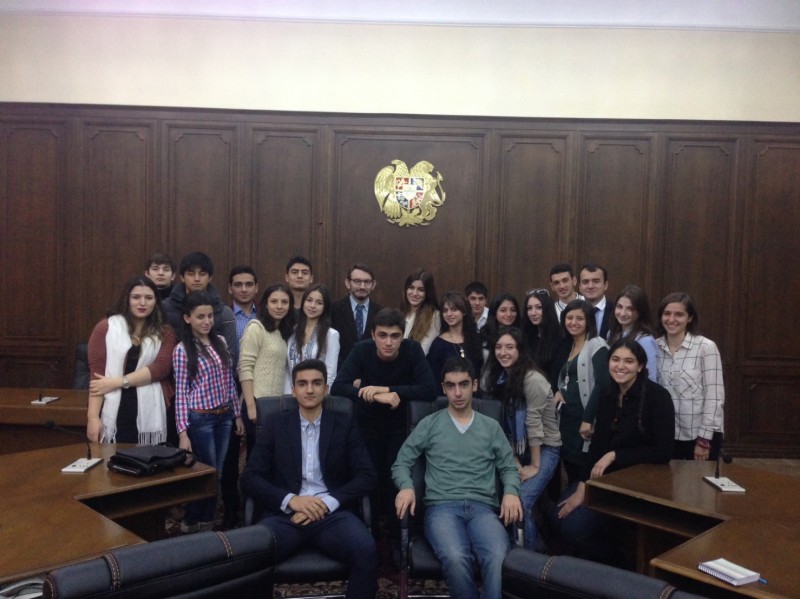 PSIA students visit the National Assembly