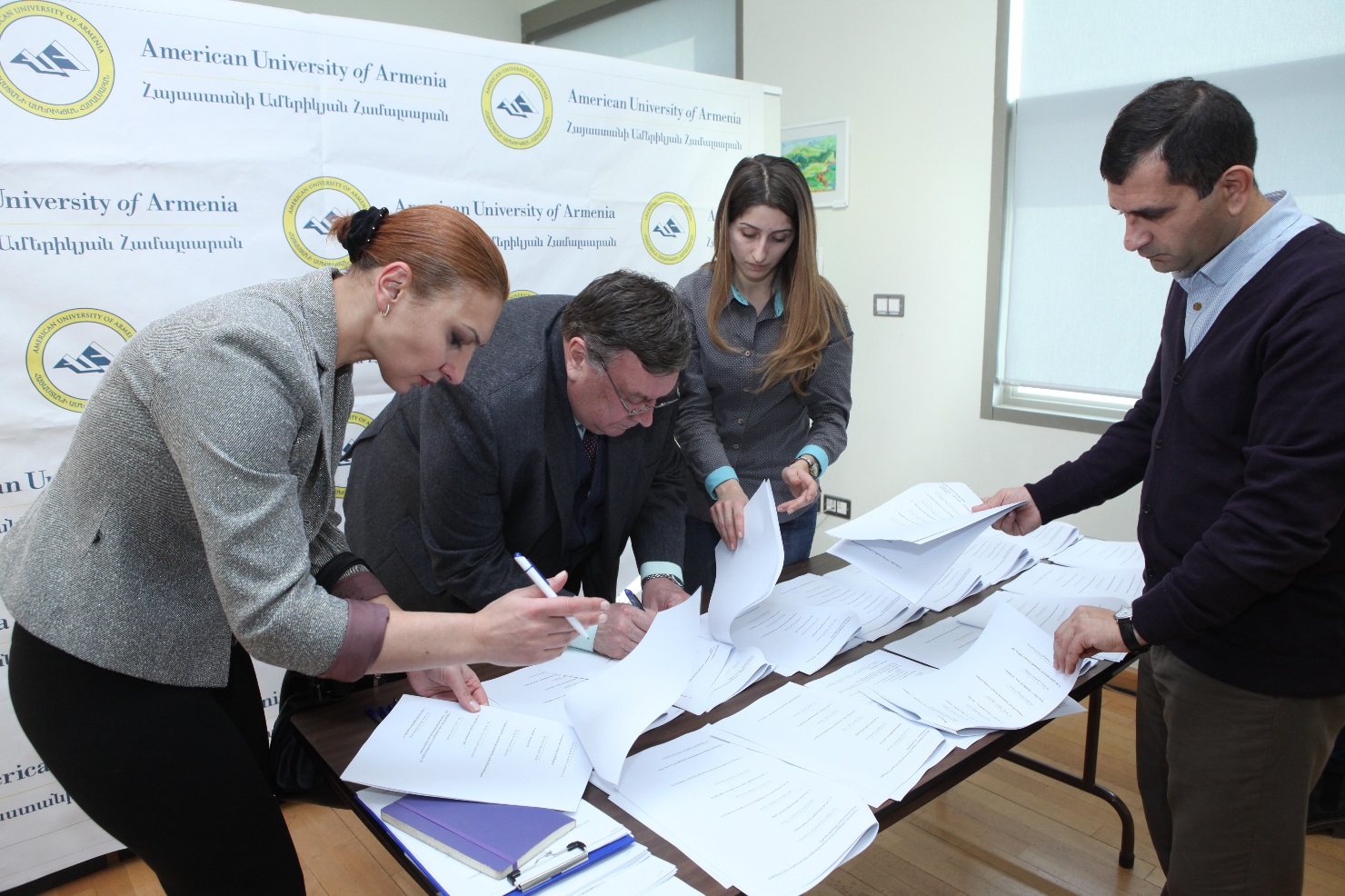 MoU Signing at AUA Results in Establishment of Environmental Education Network
2
min read
YEREVAN, Armenia – On November 18, 2014, the American University of Armenia (AUA) hosted more than fifteen civil society, governmental, educational, and international organizations in Akian Gallery to sign a Memorandum of Understanding (MoU) establishing the Environmental Education Network (EEN) in Armenia.
EEN aims to foster collaboration and partnership between its members to share experience, information, lessons learned and best practices in the field of environmental education (EE) and education for sustainable development (ESD).
Alen Amirkhanian, Director of the AUA Acopian Center for the Environment, stated that "This relationship has come after a year's worth of effort on the part of many organizations. We hope that this will give us the opportunity to push environmental education forward in Armenia and also keep this network together and make it an effective multi-sector platform for learning and positive change."
The creation of EEN has been supported by the Norwegian Embassy Small Grants Program 2014, European Union supported civic society capacity building program of the UNDP GEF Small Grants Program, UNICEF, GIZ, WWF and OSCE.
Participation in the MoU is open and over time it is expected that more organizations may join the EEN.
The founding of the EEN is being with the following organizations:
American University of Armenia's Acopian Center for the Environment,
Armenia Tree Project,
Armenian Environmental Network,
Armenian Women for Health and Healthy Environment (AWHHE),
Association for Sustainable Human Development,
Armenian Center for Democratic Education CIVITAS,
Children of Armenia Fund (COAF),
Deutsche Gesellschaft für Internationale Zusammenarbeit (GIZ) GmbH – German International Cooperation – GIZ-SMB Programme Office Yerevan
Eco-club "Tapan",
Environment and Sustainable Agriculture Educational Foundation (ESA),
Foundation for the Preservation of Wildlife and Cultural Assets (FPWC),
Organization for Security and Cooperation in Europe (OSCE) Office in Yerevan
Regional Environmental Center for Caucasus,
Republic of Armenia National Institute of Education,
UNESCO Chair on "Education for Sustainable Development" (Center for Ecological-Noosphere Studies of the National Academy of Sciences of RA),
United Nations Children's Fund (UNICEF)
World Wildlife Fund (WWF)
Young Biologists Association NGO, and
Yerevan State University's Environmental Law Research Center.
The AUA Acopian Center for the Environment (AUA ACE) is a research center of the American University of Armenia. AUA ACE promotes the protection and restoration of the natural environment through research, education, and community outreach. AUA ACE's focus areas include sustainable natural resource management, biodiversity and conservation, greening the built environment, clean energy and energy efficiency, as well as information technology and the environment.
Founded in 1991, the American University of Armenia (AUA) is a private, independent university located in Yerevan, Armenia and affiliated with the University of California. AUA provides a global education in Armenia and the region, offering high-quality, graduate and undergraduate studies, encouraging civic engagement, and promoting public service and democratic values.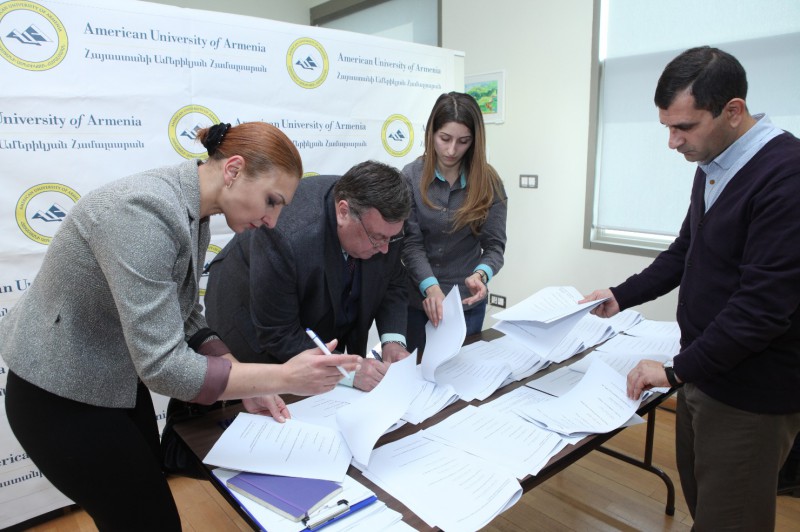 A Memorandum of Understanding was signed to establish the Environmental Education Network.
Alen Amirkhanian, Director of the AUA Acopian Center for the Environment, addresses the participants.
AUA President Dr. Armen Der Kiureghian talks about the importance of the newly formed Environmental Education Network in Armenia.