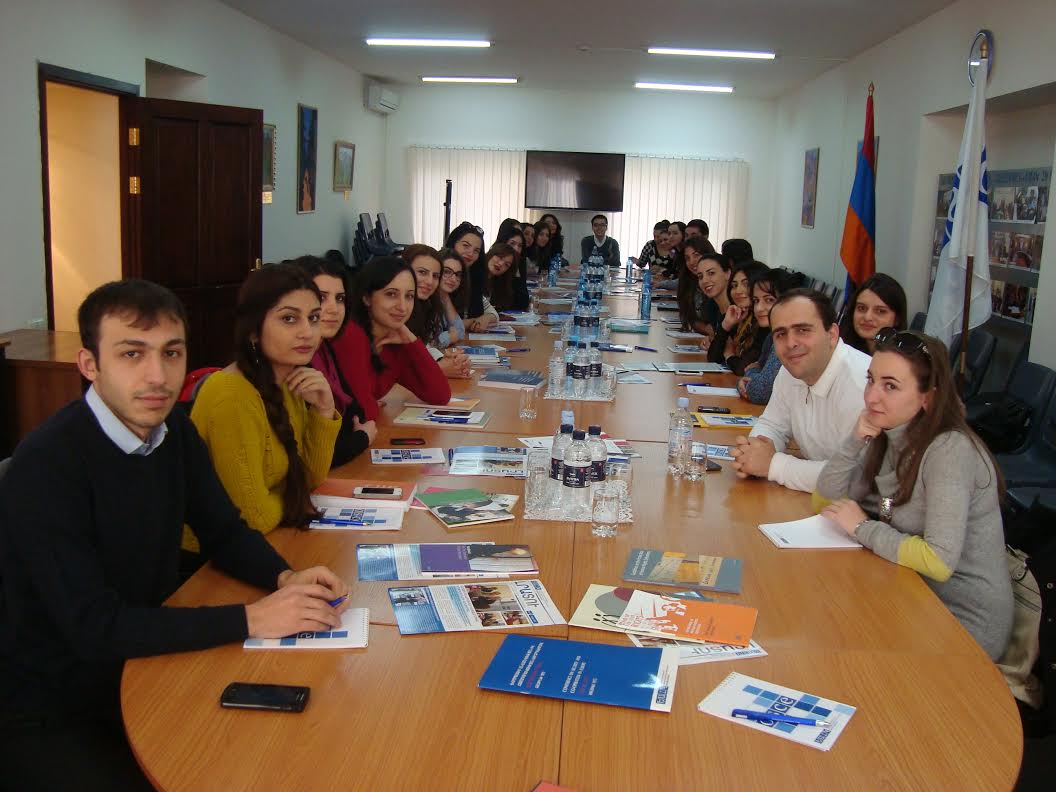 PSIA Students Visit OSCE Office in Yerevan
2
min read
YEREVAN, Armenia – On November 14, 2014, within the framework of the "International Relations in Theory and Practice" course, first year students in the American University of Armenia (AUA)'s MA in Political Science and International Affairs (PSIA) program were taken on a study visit to the Organization for Security and Cooperation in Europe (OSCE) office in Yerevan. This is the fourth year that students have been given the opportunity to visit the OSCE office in Armenia.
The visit was organized by Dr. Syuzanna Vasilyan, Jean Monnet Chair of European Studies and Assistant Professor, PSIA, AUA.
Mr. Oliver McCoy, Democratization Program Manager of the OSCE office in Yerevan, delivered a lecture on the history of the organization, its structure, and its role in providing security, supporting democratization, human rights, economic development, environmental protection, and more. He explained his own academic background and professional experience before arriving to Armenia and answered students' questions relating to OSCE's cooperation with the police, ensuring responsible management of natural resources, assistance in improving the Armenian educational system, promoting gender equality, and more.
Dr. Vasilyan commented that, "The students are always thrilled about these kinds of visits since they provide insight into the work of international institutions. What is taught, analyzed and theorized in class obtains a practical application once they hear from an insider about the routine political challenges pertaining to elections, security, and other issues."
Founded in 1991, the American University of Armenia (AUA) is a private, independent university located in Yerevan, Armenia and affiliated with the University of California. AUA provides a global education in Armenia and the region, offering high-quality, graduate and undergraduate studies, encouraging civic engagement, and promoting public service and democratic values.
PSIA students visiting the OSCE office in Yerevan
Mr. Oliver McCoy, Democratization Program Manager of the OSCE office in Yerevan, delivered a lecture on the history of the organization and much more