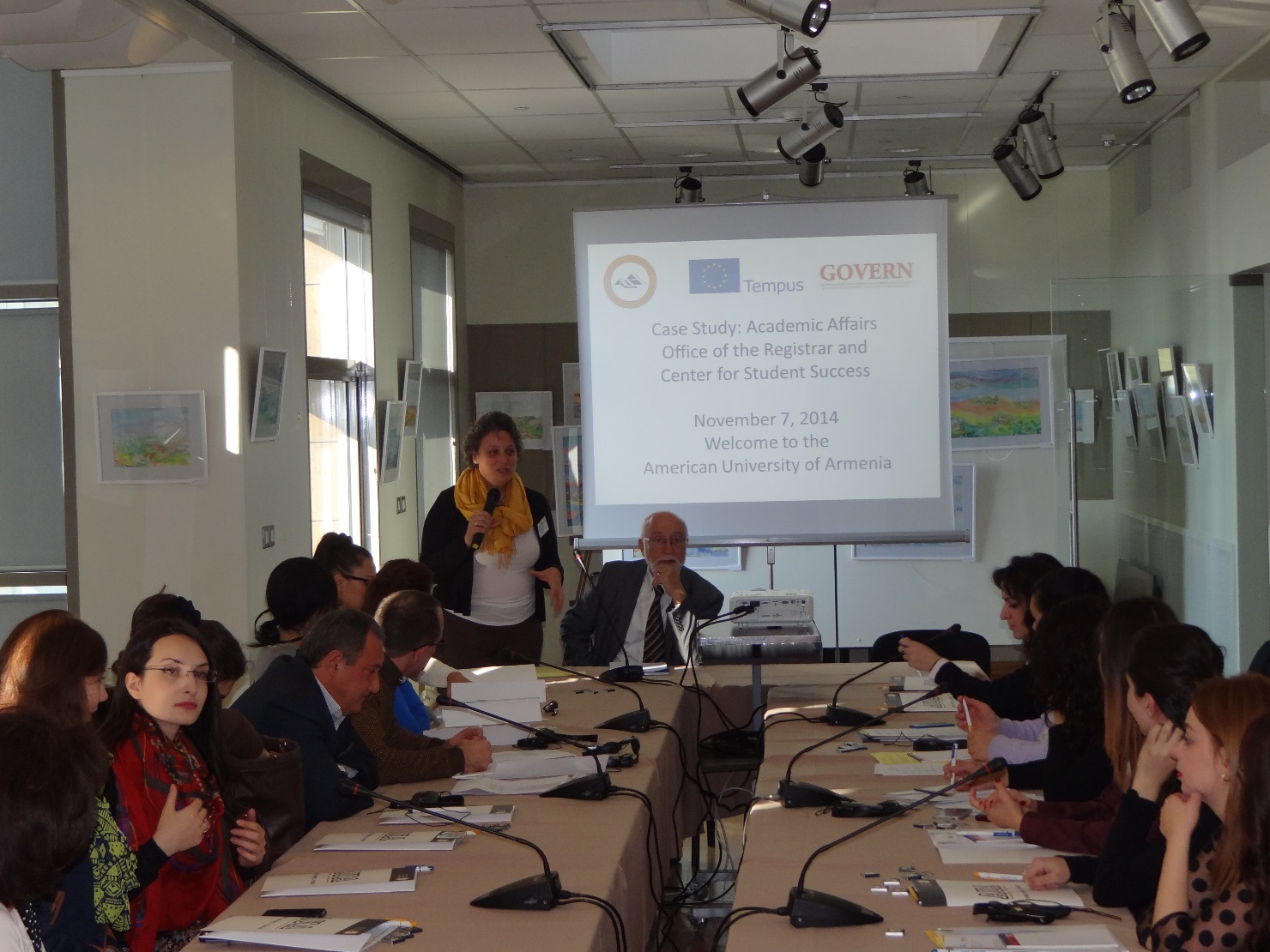 Tempus GOVERN Participants Gather at AUA for Site Visit
2
min read
YEREVAN, Armenia – On November 7, 2014, as part of the American University of Armenia (AUA)'s participation in the Tempus GOVERN project, the university hosted 15 Armenian higher education institutions (HEIs) and agencies to a site visit and introduction to the Office of the Registrar and Center for Student Success.
The purpose of the visit was to demonstrate the functions and processes of the two offices, detail their role in students' academic life from the application process through post-graduation, and present their experience implementing the new University Management System (UMS) that is being used to organize student data and records.
AUA President Dr. Armen Der Kiureghian welcomed the guests and stated, "Among units supporting the educational process in our university, the Office of the Registrar and the Center for Student Success have special importance."
He also commented on the importance of AUA's involvement with Tempus. He said, "We are very glad to be a part of this Tempus consortium of higher education institutions and organizations committed to improving the quality of education in Armenia. The quality of the university is a reflection of the quality of its faculty, staff, and students, but it also depends on its institutional structure and governing policies and procedures. Periodic review of these policies and procedures is essential to make sure that the university is keeping up to date and achieving its mission."
Registrar Chaghig Chahinian and the staff of the Office of the Registrar and Center for Student Success introduced participants to the structure and functions of the office and its role in university life.
The visit also included a student-led tour of the university by Undergraduate Student Council members Hovsep Markarian and Gabriel Hovhannisyan.
GOVERN is a three-year national project involving 22 partners from Armenia and Europe, the objective of which is to enable application of state-of-the-art management systems at Armenian HEIs in order to promote effective and efficient structural changes in line with Bologna principles, enhancing HEIs autonomy and accountability. It is one of four Tempus projects in which the university is involved and is an example of one way the university collaborates with institutions both within and outside Armenia and engages in discourse about higher education reform.
More information about GOVERN can be found at http://govern.am.
Founded in 1991, the American University of Armenia (AUA) is a private, independent university located in Yerevan, Armenia and affiliated with the University of California. AUA provides a global education in Armenia and the region, offering high-quality, graduate and undergraduate studies, encouraging civic engagement, and promoting public service and democratic values.
Tempus GOVERN participants gather in Akian Gallery to hear about the Office of the Registrar and the Center for Student Success
Participants learn about the functions of the Center for Student Success
The Office of the Registrar receives a visit from Tempus GOVERN participants