Zaven Akian Shares Secrets of Success with AUA Students
2
min read
YEREVAN, Armenia – On November 4, 2014, American University of Armenia (AUA) students of the College of Science and Engineering (CSE) had the opportunity to meet and speak with Zaven Akian, CEO of Western Filter, the world's largest independent supplier of filtration systems to the aerospace and defense industries.
Mr. Akian discussed his life and career, and shared an important piece of advice: "Education is the most important asset for a successful career."
Aram Hajian, Dean of the CSE, stated, "The opportunity for our students to meet and speak with Zaven Akian was invaluable.  AUA students were able to interact firsthand with a successful technology innovator and entrepreneur and hear how a scientific education, focused dedication, and business sense combine for success.  Mr. Akian genuinely enjoyed meeting the students and the feeling was mutual."
Mr. Akian is a member of the AUA Board of Trustees and has been financially involved with the university since its inception in 1991. In 2010, AUA opened the Akian Art Gallery in the university's Paramaz Avedisian Building, which was made possible by a generous donation from the Akian Family Foundation. That same year, Mr. Akian made a five-year commitment to provide AUA students with academic scholarships, demonstrating his continued involvement in the development of the university.  When asked what he likes most about being involved with AUA, he stated, "It's the achievement of establishing a great institution with American standards right here in Armenia. It's great to see that young people in Armenia have the same opportunity for education that I had in the U.S."
Mr. Akian also has great hopes for AUA students. He stated, "I would like to see them take full advantage of their education, and then to go beyond and tackle life in order to make things better for themselves and their families. And of course to keep their bond with AUA in the future."
The American University of Armenia (AUA) is a private, independent university located in Yerevan, Armenia.  Founded in 1991, AUA is affiliated with the University of California.  Through teaching, research, and public service, AUA serves Armenia and the region by supplying high-quality, graduate and undergraduate education, encouraging civic engagement, and promoting democratic values.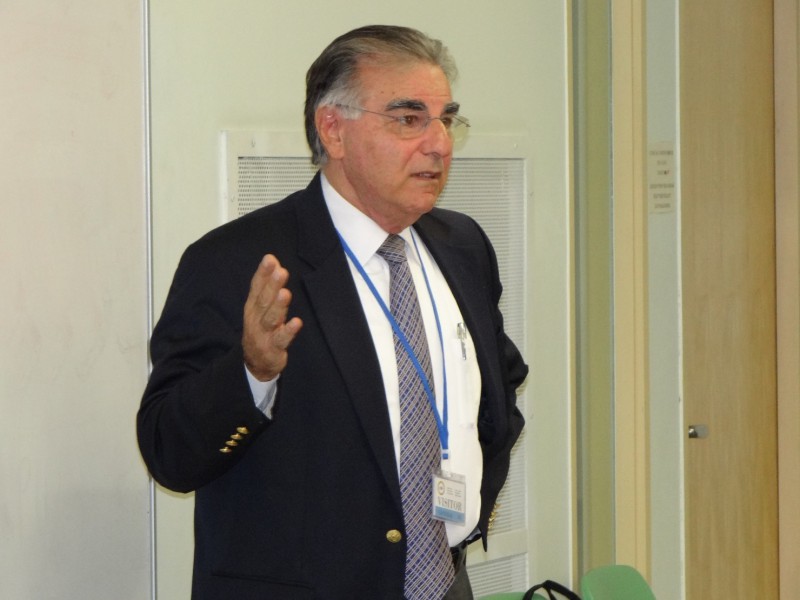 Zaven Akian 
Zaven Akian speaks with students from AUA's College of Science and Engineering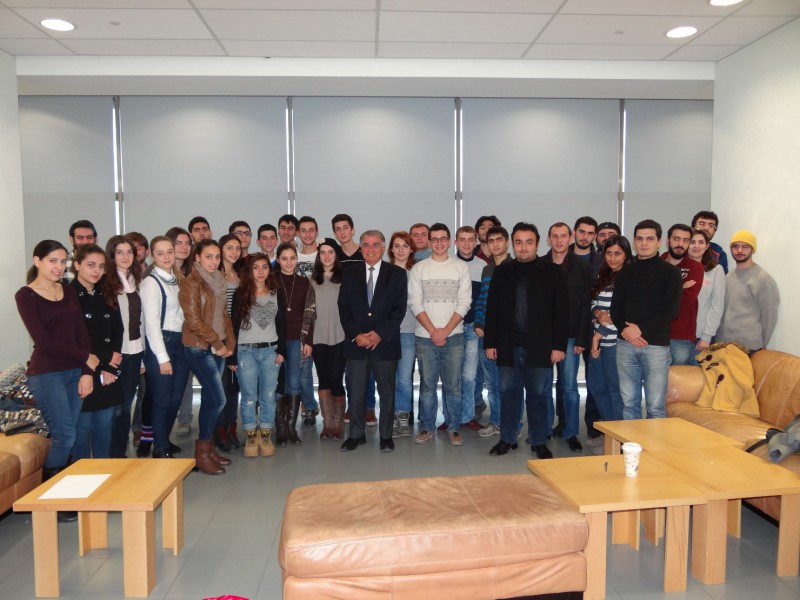 Students gathered for a group photo with Zaven Akian after the meeting.