AUA and World Bank Host Lecture Examining Fiscal Policy in Armenia
2
min read
YEREVAN, Armenia – On January 20, 2014, the American University of Armenia (AUA) hosted Dr. Stephen Younger of the World Bank for a public lecture entitled "The Incidence of Fiscal Policy in Armenia."
Dr. Younger discussed tax incidence in Armenia and asked who pays the taxes that finance government spending. He then identified the progressivity of different taxes levied in Armenia based on consumption and income patterns.
The presentation was part of a lecture series organized within the framework of the Knowledge for Development Center, established five years ago by the AGBU Papazian Library and the World Bank. The Knowledge for Development Center aims to disseminate news and information about economic development.
Stephen D. Younger is Scholar in Residence at the Department of Economics at Ithaca College. He earned his Ph.D. in Economics in 1986 from Stanford University and has worked previously at Williams College, Cornell University, the Vrije Universiteit, and the Facultad Latinoamericana de Ciencias Sociales – Quito. Dr. Younger's research focuses on public policy and poverty in developing countries, especially non-income dimensions of well-being and multidimensional poverty and inequality measurement. Dr. Younger is the author of the "Fiscal Incidence in Armenia" study.
Dr. Younger's PowerPoint presentation may be viewed here.
Founded in 1991, the American University of Armenia (AUA) is a private, independent university located in Yerevan, Armenia and affiliated with the University of California. AUA provides a global education in Armenia and the region, offering high-quality, graduate and undergraduate studies, encouraging civic engagement, and promoting public service and democratic values.
AUA President Dr. Bruce M. Boghosian welcomes guests to Dr. Younger's lecture, entitled "The Incidence of Fiscal Policy in Armenia."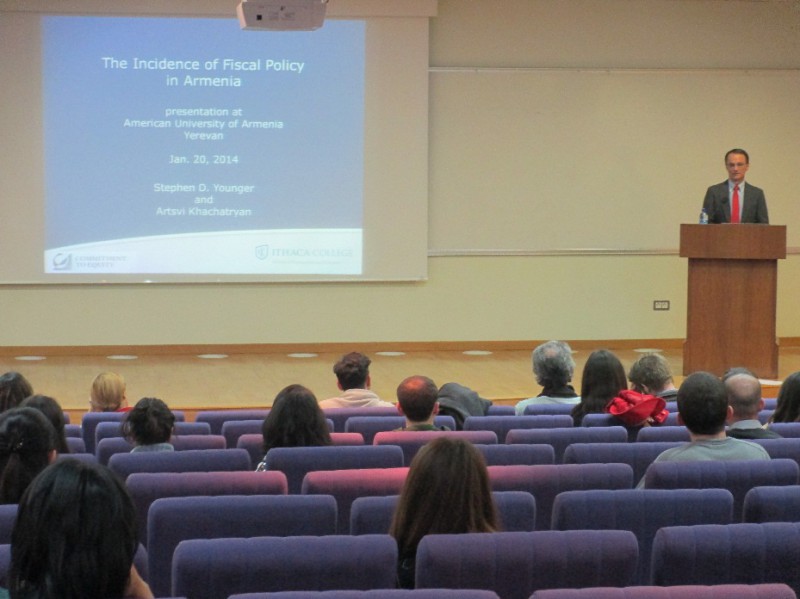 Dr. Stephen Younger of the World Bank presents fiscal policy in Armenia.
Audience members at the public lecture, organized jointly by AUA and the World Bank, within the framework of the Knowledge for Development Center.