PSIA Students Take the Stage at Academic Convention on European Neighborhood Policy
2
min read

By Dr. Syuzanna Vasilyan, Assistant Professor & Jean Monnet Chair of European Studies
YEREVAN, Armenia – On December 16-20, 2013, the American University of Armenia (AUA)'s Political Science and International Affairs (PSIA) program conducted its first-ever academic convention on the topic of the European Neighborhood Policy. The convention, which pursued the aim of broadening the knowledge of those willing to learn about the European Union (EU)'s relations with its political neighborhood, was organized by Dr. Syuzanna Vasilyan, Jean Monnet Chair of European Studies and assistant professor at AUA's PSIA program.
The speakers—second year PSIA students—presented their policy research papers focusing on a sub-region of the EU's southern and eastern neighborhoods. Most importantly, the papers tackled specific policy domains analyzing trade relations, energy policy, democracy promotion, human rights, the fight against corruption, security policy, conflict resolution, organized crime, migration, and the environment. Such research on the EU's policy towards different (sub-)regions with emphasis on sectors is scant in academic literature.
This was a first-of-its-kind academic initiative in the PSIA program and a new experience for the participating students. "The academic convention was organized to familiarize the students with a different format of presentation, with panels grouped similarly to the ones in academic conferences, with the professor acting as a chair and discussant. This format helped them to conduct specialized research for their own papers and to see parallels across different policy domains and sub-regions by drawing a more generalized understanding about the EU's external policy towards the neighborhood. As a result, in the future, they will feel more at ease with participating in extramural conferences and presenting solid research", said Dr. Vasilyan.
Founded in 1991, the American University of Armenia (AUA) is a private, independent university located in Yerevan, Armenia and affiliated with the University of California. AUA provides a global education in Armenia and the region, offering high-quality, graduate and undergraduate studies, encouraging civic engagement, and promoting public service and democratic values.

PSIA students present their research at the first-ever academic convention on European Neighborhood Policy at AUA.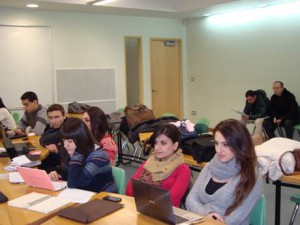 The convention allowed students to share their research with their peers in a new format.

Second-year PSIA students were the presenters at the convention.

PSIA students listen attentively as their peers present their research papers.