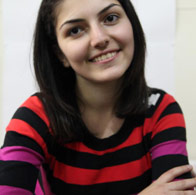 New Student Interviews: Ani Ghazaryan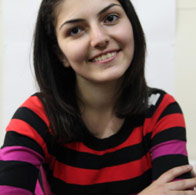 Ani Ghazaryan is one of the nearly 300 students comprising the American University of Armenia (AUA)'s first undergraduate class. She comes from Kapan, a small town in the Syunik region, and is majoring in Business at AUA. Read on to learn more about her expectations for AUA and her plans for the future. 
Why did you apply to AUA?
In high school, I participated in the FLEX exchange program and moved to the United States, an experience which shifted the course of my education and life. When I came back, I was so glad to hear that AUA was launching an undergraduate program. I applied to AUA with the determination to find something new after coming back from the States. AUA was the best option.
What are your expectations for your education at AUA?
In American universities, students are given the freedom to choose the subjects they want to study. There is a need for qualified specialists in the field of business in Armenia. My expectation from the AUA Business program is to become a qualified specialist for Armenia.
You have already experienced an American education. What opportunities did it give to you?
I really liked the sports that I was involved in. I was involved in the swimming team. When I moved to the States I did not know how to swim at all, unlike the Americans who swim perfectly. But soon I learned. As for education, I think that in Armenia the students study harder. I think that the education at AUA will be a mix of Armenian and American styles. I hope that at AUA the education will be something new, something different.
In what activities have you been involved in Armenia?
I have gone to different summer camps in different regions of Armenia. I was also a member of Camp GLOW [Girls Leading Our World], first as a participant, then as a senior counselor. Besides that, I also volunteered with Peace Corps volunteers.
What are your future plans for your professional life and your life in Armenia?
After graduating I am planning to stay in Armenia and to work in different places, to understand what condition Armenia is in, and where we are going. Then I am planning to study at Harvard, after which I will surely be back as my country will need me more than America.
Founded in 1991, the American University of Armenia (AUA) is a private, independent university located in Yerevan, Armenia and affiliated with the University of California. AUA provides a global education in Armenia and the region, offering high-quality, graduate and undergraduate studies, encouraging civic engagement, and promoting public service and democratic values.