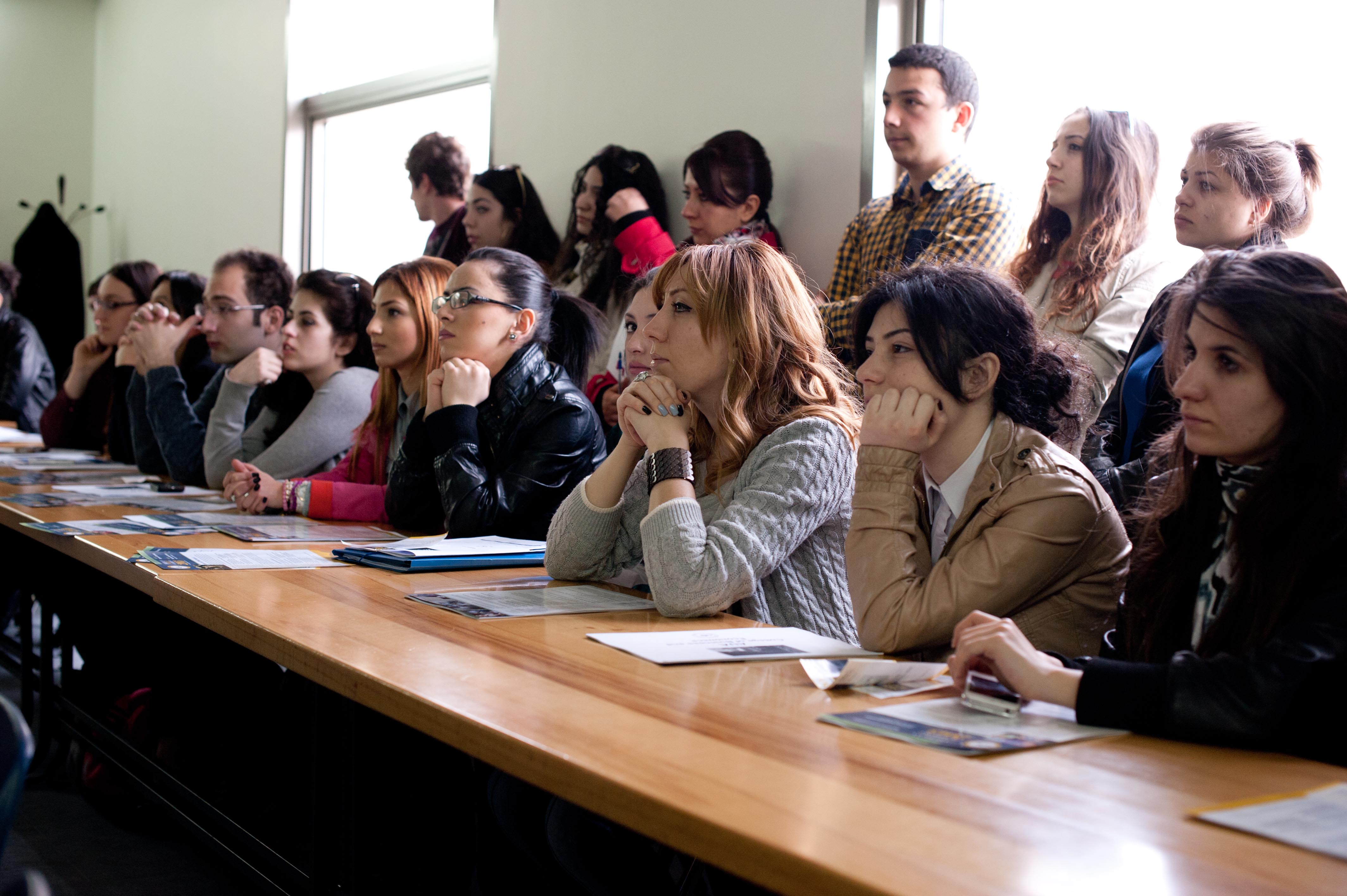 Students at AUA Learn How to Think, Not What to Think
Graduate Open House Introduces New Generation to Graduate Studies at AUA
YEREVAN–The American University of Armenia (AUA) hosted an open house for its graduate program on Saturday, March 23, welcoming over 350 prospective students and their parents to the campus for college tours, presentations, academic program visits, workshops and faculty and staff introductions.
The Open House began with welcoming remarks by AUA President Dr. Bruce Boghosian and a general informational session in Manoogian Hall. Dr. Boghosian spoke about academic life at the university, highlighting the institution's US Accreditation, world-standards in education, and the global competitiveness of an AUA degree.
"Our emphasis is not on what to think, but rather how to think," said Dr. Boghosian. AUA students are not expected to be passive absorbers of knowledge.  We want them to be engaged, proactive problem solvers."
Following welcoming remarks, prospective students split up into groups based on academic interest and visited the various colleges for departmental meetings. AUA students and alumni also contributed by leading campus tours and answering prospective applicants' questions. After a tour of the campus, prospective students participated in workshops on application preparation, financial aid, and resume writing.
AUA's graduate program offers eight master's degrees: Business Administration, Industrial Engineering and Systems Management, Computer and Information Science, Political Science and International Affairs, Economics, Public Health, Law, Teaching English as a Foreign Language, as well as a joint degree in Public Health & Business Administration. To learn more about AUA's various graduate programs, visit: http://aua.am
The American University of Armenia (AUA) is a private, independent university located in Yerevan, Armenia.  Founded in 1991, AUA is affiliated with the University of California. Through teaching, research, and public service, AUA serves Armenia and the region by supplying high-quality, graduate and undergraduate education, encouraging civic engagement, and promoting democratic values.
AUA is accredited by the Accrediting Commission for Senior Colleges and Universities of the Western Association of Schools and Colleges, 985 Atlantic Avenue, #100, Alameda, CA 94501, (510) 748-9001. 
For more news and information about AUA, visit the university Newsroom atnewsroom.aua.am or follow developments as they happen on social media at facebook.com/americanuniversityofarmenia