Tempus GOVERN Final Conference Highlights Successes, Experiences, and Steps for the Future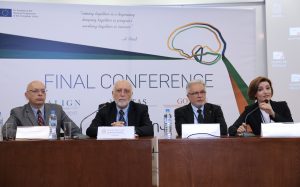 YEREVAN, Armenia – On October 13, the American University of Armenia (AUA) hosted the final conference of Tempus GOVERN, a project that aims to develop a state-of-the-art management system at Armenian higher education institutions (HEIs) by fostering autonomy and accountability to promote effective and efficient structural changes in line with the Bologna agenda.
The three-and-a-half year project, coordinated by the Yerevan State Academy of Fine Arts (YSAFA), brought together 22 consortium members and international experts.
Eleven HEIs from Armenia joined together with the Ministry of Education and Science, the National Center For Professional Education Quality Assurance Foundation (ANQA), the Armenian National Students Association, the Republican Union of Employers of Armenia, and Education Quality, as well as HEIs and organizations from four European countries, to share experiences regarding managing academic programs and to develop recommendations for enhancing governance structures.
The principal milestones of the project included building the capacity of top and middle level administration to enable Bologna action lines implementation, drafting recommendations for regulatory reform, developing guidelines and criteria for student mobility, and developing a state-of-the-art management system.
In his welcoming speech, AUA President Dr. Armen Der Kiureghian noted that the University was honored to have had three unique opportunities through GOVERN to share their experiences in managing student records, supporting student success, and implementing fiscal management.
The one-day conference was held in several sessions which included panel discussions focused on the achievements of the project, challenges and experiences and recommendations for moving forward. Vice President of Finance Gevorg Goyunyan participated in the panel discussion on financial management, while Irshat Madyarov, the chair of the Master of Arts in Teaching English as a Foreign Language, participated in the panel discussion on external evaluation.
Posters prepared by each participating partner highlighted the work of the project and were displayed throughout the day.
More information about GOVERN can be found here.
Founded in 1991, the American University of Armenia (AUA) is a private, independent university located in Yerevan, Armenia and affiliated with the University of California. AUA provides a global education in Armenia and the region, offering high-quality, graduate and undergraduate studies, encouraging civic engagement, and promoting public service and democratic values.