YEREVAN, Armenia – On September 19, the American University of Armenia (AUA) College of Humanities & Social Sciences (CHSS) hosted a public lecture entitled "The Nature, Dynamics, and Impact of Globalization in the 21st Century" led by Dr. Berch Berberoglu. His presentation was part of the Armenia at 25: Achievements, Opportunities, Challenges lecture series (AOC).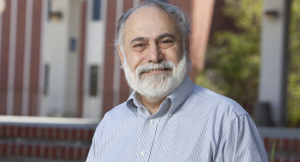 Dr. Berch Berberoglu is a Foundation Professor of Sociology and Director of Graduate Studies in Sociology at the University of Nevada, Reno. He received his Ph.D. from the University of Oregon in 1977. He has been teaching and conducting research at the University of Nevada, Reno for the past 39 years.
Dr. Berberoglu has written and edited 32 books and many articles. His most recent books include Labor and Capital in the Age of Globalization (2002), The Globalization of Capital and the Nation-State (2003), Nationalism and Ethnic Conflict: Class, State, and Nation in the Age of Globalization (2004), Globalization and Change: The Transformation of Global Capitalism (2005), The State and Revolution in the Twentieth Century: Major Social Transformations of our Time (2007), Class and Class Conflict in the Age of Globalization (2009), Globalization in the 21st Century: Labor, Capital, and the State on a World Scale (2010), Beyond the Global Capitalist Crisis: The World Economy in Transition (2012), Political Sociology in a Global Era: An Introduction to the State and Society (2013), and The Global Capitalist Crisis and Its Aftermath (2014). His latest book, Social Theory: Classical and Contemporary — A Critical Perspective will be published this year by Routledge.
His areas of specialization include globalization, international political economy, development, class structure, political sociology, nationalism and ethno-national conflict, class/race/gender, and comparative-historical sociology. Furthermore, Dr. Berberoglu is currently working on two new books titled America After Empire: The Promise and the Vision for a New America in the 21st Century, which will be published by Routledge in 2017 and The Palgrave Handbook of Social Movements, Revolution, and Social Transformation, which will be published by Palgrave Macmillan in 2018. AUA is very pleased to continue organizing events that bring together the best international expertise with the University's students.
Founded in 1991, the American University of Armenia (AUA) is a private, independent university located in Yerevan, Armenia and affiliated with the University of California. AUA provides a global education in Armenia and the region, offering high-quality, graduate and undergraduate studies, encouraging civic engagement, and promoting public service and democratic values.