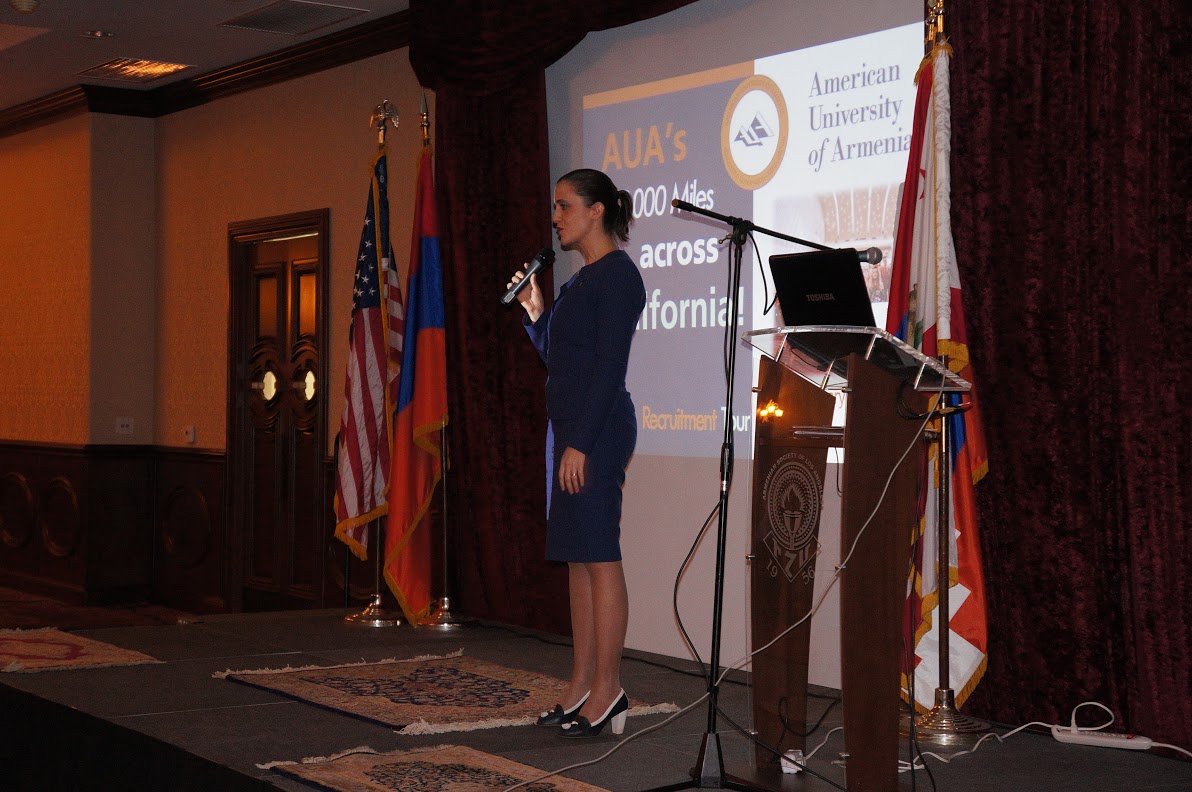 AUA's 2,000 Mile Recruitment Tour across California
CALIFORNIA – In February 2015, the American University of Armenia (AUA)'s Director of Admissions, Arina Zohrabian, set off on a 2,000 mile tour across California to encourage young students to pursue their higher education at AUA.
The recruitment tour was made possible by a generous donation from Mr. Zaven Akian, a member of AUA's Board of Trustees. He stated, "I am happy to be able to sponsor the inaugural student recruitment tour for AUA. The university is one of the most important investments we in the Diaspora can make. The academic excellence, integrity and leadership skills the students will learn will enable them to shape the future of our nation."
In her travels across California, Ms. Zohrabian spoke with prospective students and Armenian community members about the many opportunities AUA offers. Students have the advantage of getting their education from a University of California (UC) affiliated institution, making it very easy to transfer credits. AUA is also accredited by the WASC Senior College and University Commission, meaning students have assurance they are receiving a high quality education. Additionally, the university boasts a diverse Western-educated faculty, the majority of which hold doctoral degrees.
AUA students come from all over the world, and on a daily basis get to enjoy the university's many research centers and state-of-the-art facilities, including the newly renovated AGBU Papazian Library and the modern Paramaz Avedisian Building with fully equipped classrooms. In addition to offering 8 master's degrees, AUA launched its undergraduate degree program in 2013, after which the number of applicants from outside of Armenia tripled from the 2012-2013 school year.
Ms. Zohrabian also made sure to mention the newly announced AUA-UCLA Joint Summer Intensive Program in Armenian Studies, which was the result of a Memorandum of Understanding (MoU) signed between the two universities, with the hope that it will lead to a broader program of student and faculty interactions with the University of California, Los Angeles (UCLA). The program provides the ideal experience for students who want to completely immerse themselves in Armenian language, history, and culture.
For those who wish to stay at AUA for a semester or even a year, Study Abroad AUA is another great option that allows students to enhance their educational experience with programs that combine strong academics with the benefits of a safe, welcoming, and exciting environment.
Ms. Zohrabian was also pleased to share the news about AUA's recent collaboration with Birthright Armenia, which gives Study Abroad AUA or Summer Program participants the opportunity to extend their stay in Armenia for volunteer services with options for homestays and travel fellowships.
The tour began in northern California and continued on through Fresno, Los Angeles, and surrounding areas. While in northern California, the AUA team visited KZV Armenian Middle School, UC Davis, and UC Berkeley. They then met with Fresno State Armenian Studies professors.  
Ms. Zohrabian and AUA President Dr. Armen Der Kiureghian also had the chance to meet with study abroad representatives from UC Berkeley and California State University, Fresno, who expressed interest in joining UCLA in signing MoUs. UC Irvine also recently signed an MoU with AUA, with the goal of promoting future educational and scientific cooperation. These agreements are an extremely important first step in future collaborations between universities, as they set the foundation for discussions about the exchange of students, professors, and research.
Once in Los Angeles, Ms. Zohrabian spoke with students at Ferrahian High School, Rose and Alex Pilibos Armenian School, AGBU Vatche and Tamar Manoukian High School, AGBU Manoogian-Demirdjian School, Ulysses S. Grant High, and Herbert Hoover High. She also visited California State University, Northridge, UCLA, UC Irvine, and Glendale Community College. 
While in California, AUA participated in two large events: Innovate Armenia, held at the University of Southern California, and the Volunteer Armenia Exposition. Both events featured organizations committed to bettering Armenia from within through hard work and dedication to success. Innovate Armenia allowed Ms. Zohrabian to speak to a large crowd about AUA's contribution to the exciting innovation occurring in Armenia.
At AUA, Ms. Zohrabian manages the strategy and operations for undergraduate and graduate admissions, national and global outreach, and international student services. Previously, she served as the Regional Director for Education Programs and Country Director for the International Research & Exchanges Board (IREX) Armenia office, managing and implementing higher education programs funded by the US Department of State and other private sources. Ms. Zohrabian moved to Yerevan in 2002 as a volunteer. What was meant to be a one year trip evolved into a life-changing experience.
Founded in 1991, the American University of Armenia (AUA) is a private, independent university located in Yerevan, Armenia and affiliated with the University of California. AUA provides a global education in Armenia and the region, offering high-quality, graduate and undergraduate studies, encouraging civic engagement, and promoting public service and democratic values.
The American University of Armenia is accredited by the WASC Senior College and University Commission, 985 Atlantic Avenue, #100, Alameda, CA 94501, 510.748.9001.
In February 2015, the American University of Armenia (AUA)'s Director of Admissions, Arina Zohrabian, set off on a 2,000 mile tour across California to encourage young students to pursue their higher education at AUA